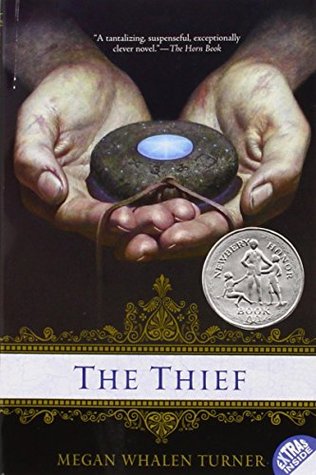 The Thief
The Queen's Thief #1
Book 3: The King of Attolia Book 4: A Conspiracy of Kings 
author : megan whalen turner
pages : [paperback] 280
memorable quote : All I wanted to do was lie in the dry grass with my feet in a ditch forever. I could be a convenient sort of milemarker, I thought. Get to the thief and you know you're halfway to Methana.
favorite characters : gen & eddis
summary :
The king's scholar, the magus, believes he knows the site of an ancient treasure. To attain it for his king, he needs a skillful thief, and he selects Gen from the king's prison. The magus is interested only in the thief's abilities.
What Gen is interested in is anyone's guess. Their journey toward the treasure is both dangerous and difficult, lightened only imperceptibly by the tales they tell of the old gods and goddesses.
review :
This is a review from me rereading The Thief. I honestly can't even count how many times I've read this book! Megan Whalen Turner has such a wonderful way with words and I love how she has constructed the life and story of this book. From the interesting plot to the fantastic characters, I can't find a piece of this novel that I don't love with all my heart.
First, the characters. Gen is and probably will always be my favorite character. He definitely has his flaws but those are what lead him into the plot of this book. He's very interesting, slightly mysterious, and nearly always grumpy and complaining about the journey he's been forced into taking. He's also part of the biggest plot twist I never anticipated. When I first read this book years ago, I think I was maybe in the sixth grade, and that twist and ending was enough to cement my love of reading and writing.
The setting, with the three countries, the mountains, and the dystopia, was beautifully described and played into the plot rather than just sitting there flatly. I liked not knowing what might happen next and what challenges the setting might add to this adventurous journey of theirs.
This book has been influenced by Greek mythology and also has its own set of gods and myth in it. I absolutely loved reading the myths than Gen and the magus tell. I've always had a thing for mythology and these stories are imaginative and creative.
I'd recommend this book to anyone who likes mythology, adventures, great characters, or just a fantastic book you'll love to pieces.
5/5 stars
If you love this, you might also like Finnikin of the Rock.