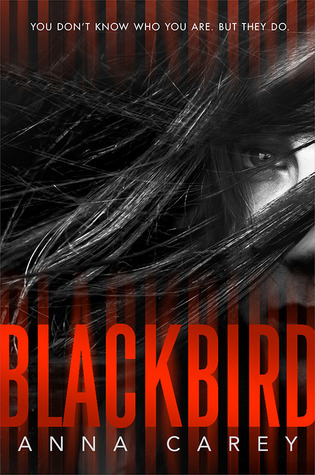 Blackbird
Blackbird Duology #1
author : anna carey
release date : september 16th 2014
pages : [ebook] 256
favorite character : ben
summary :
This twisty, breathless cat-and-mouse thrill ride, told in the second person, follows a girl with amnesia in present-day Los Angeles who is being pursued by mysterious and terrifying assailants.
A girl wakes up on the train tracks, a subway car barreling down on her. With only minutes to react, she hunches down and the train speeds over her. She doesn't remember her name, where she is, or how she got there. She has a tattoo on the inside of her right wrist of a blackbird inside a box, letters and numbers printed just below: FNV02198. There is only one thing she knows for sure: people are trying to kill her.
On the run for her life, she tries to untangle who she is and what happened to the girl she used to be. Nothing and no one are what they appear to be. But the truth is more disturbing than she ever imagined.
The Maze Runner series meets Code Name Verity, Blackbird is relentless and action-packed, filled with surprising twists.
review :
I haven't read many books written in the second person so I was fascinated when I heard that Anna Carey's latest novel was going to be written that way! Of course I needed to find a way to read it. The premise was interesting as well. Typically I believe that the waking amnesiac story has been overdone but I think the fact that it was written in second person and it seemed to be more of a thriller captured my imagination enough for me to give this a shot!
Unfortunately, Blackbird fell short of my expectations. I wasn't a huge fan of Carey's writing when I read the Eve trilogy but the plotline there was interesting enough to keep me reading. Blackbird contained the same sparse writing, even though I'd expected so much more substance in a second-person book. I was never fully captivated by the story nor was I wrapped up in Sunny's tale because I didn't feel fully connected with the characters.
I also didn't know that this book was going to be part of a duology . . until I was fifteen pages from the end and realized that things could not possibly be wrapped up by the end of the story. I don't know whether I'll read the next book; I'm very disappointed because I feel like the two could have been compressed into an awesome, action-packed story, if the plot hadn't been dragged out to fit into two novels. It's so frustrating because I can see the potential, and think perhaps others would enjoy this book more than I would, but the extended plot combined with lacking writing has me so disappointed.
If you're looking for a thriller, this book does have a few plot twists but isn't as action-packed as you might hope it is. Honestly, most of the action happens when Sunny is running away from something. While her reactions make sense, they don't exactly make for an interesting read. The plot twists kept me going for a while; some of them I could predict but I was excited to see how the characters would react once they found out what I'd already assumed to be true.
I might try another one of Carey's books in the future but I'm beginning to believe that her writing style simply doesn't mesh with me.
3/5 stars