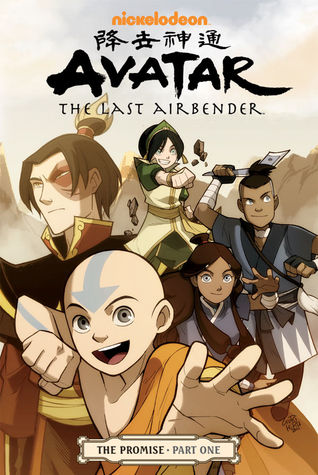 Avatar: The Last Airbender
The Promise – Part One
by : Gene Luen Yang, Bryan Konietzko, Michael Dante DiMartino, Gurihiru (Artist)
pages : [paperback] 76
favorite characters : sokka & zuko
favorite art :
summary :
The war is over…but the adventure has just begun!
Picking up exactly where Avatar: The Last Airbender left off. The Promisetakes Aang to a Fire Nation colony in the heart of the Earth Nation, where tensions between neighbors threaten to shatter the world's newfound peace–putting the Avatar on a collision course with one of his closest friends, Fire Lord Zuko!
review :
I absolutely love Avatar: The Last Airbender. I remember begging to be able to watch TV a little later just so I could catch episodes. Those were the dreaded days when I wasn't able to record everything on a DVR, so sometimes my episode watching was a little sporadic. Luckily, a lot of them don't need to be watched in order, and they're so much fun that you don't even realize they're mostly filler episodes. It's amazing. They're amazing. I continue to be impressed and captivated by this series. If you've never had the chance to wait it, just do it. You'll never regret it. Then please discuss Avatar with me.
I've known for a long while that comics/graphic novels were coming out detailing events after the series but never picked them up. I recently had the chance to check out a few of them and read through the three portions of The Promise very quickly. I can't wait to get to the next set of graphic novels!
The Promise takes place after the conclusion of the series. If you don't want to be spoiled on the TV show, don't pick up these books just yet!
Aang is still trying to bring balance to the world. Zuko is trying to be a better person and is anxious to prevent himself from following in the footsteps of his father. I loved how I could easily imagine and feel the emotions these two were going through, while they interacted as well as when they were apart. They're the two most prominent in The Promise – Part One because tension is rising between citizens of different nations and the duo are now in positions of power. Of course, they're still both young and are going to make mistake along the way.
This first part does a great job of building up suspense so that I immediately wanted to know what was going to happen next in this trilogy. Familiar faces from the TV show keep popping up. The longer you read, the more characters you'll know! It was perfect, how all of these futures are beginning to intertwine and I don't feel like any of it was forced at all.
I highly recommend this book to anyone who's a fan of Avatar. It's beautiful art, great writing, and best of all immerses us in that world all over again. I really don't understand why I waited so long to read this for myself.
4/5 stars