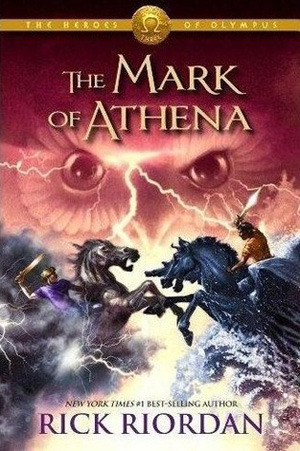 The Mark of Athena
The Heroes of Olympus #3
Book 1: The Lost Hero
Book 2: The Son of Neptune
author : rick riordan
pages : [hardcover] 608
favorite characters : percy & annabeth
memorable quote : "We're staying together," he promised. "You're not getting away from me. Never again."
IF YOU HAVE NOT READ BOOKS ONE AND TWO, THIS SUMMARY AND REVIEW MAY CONTAIN SPOILERS! But it will definitely not spoil The Mark of Athena.
summary :
Annabeth is terrified. Just when she's about to be reunited with Percy—after six months of being apart, thanks to Hera—it looks like Camp Jupiter is preparing for war. As Annabeth and her friends Jason, Piper, and Leo fly in on the Argo II, she can't blame the Roman demigods for thinking the ship is a Greek weapon. With its steaming bronze dragon masthead, Leo's fantastical creation doesn't appear friendly. Annabeth hopes that the sight of their praetor Jason on deck will reassure the Romans that the visitors from Camp Half-Blood are coming in peace.
And that's only one of her worries. In her pocket Annabeth carries a gift from her mother that came with an unnerving demand: Follow the Mark of Athena. Avenge me. Annabeth already feels weighed down by the prophecy that will send seven demigods on a quest to find—and close—the Doors of Death. What more does Athena want from her?
Annabeth's biggest fear, though, is that Percy might have changed. What if he's now attached to Roman ways? Does he still need his old friends? As the daughter of the goddess of war and wisdom, Annabeth knows she was born to be a leader, but never again does she want to be without Seaweed Brain by her side.
Narrated by four different demigods, The Mark of Athena is an unforgettable journey across land and sea to Rome, where important discoveries, surprising sacrifices, and unspeakable horrors await. Climb aboard the Argo II, if you dare….
review :
Ahhhhhhh! Rick Riordan is amazing! I seriously cannot get enough of these books!
It took me a while to get to the third book in this series. Why? I had the ending spoiled for me, so that devastated me for a while. But now that the entire series is out, I'm terrified that the fourth and fifth books will be spoiled, so I decided to finally press on with these great books. I know that this will be something that, like the original Percy Jackson books, I'll come back to read again and again. These awesome adventures are just so much fun and are filled with great characters that I've come to know and love.
I really like the way that the characters new to this series have been interacting with old favorites like Annabeth and Percy. Not to mention that Percy and Annabeth are FINALLY getting to unite!!! This is the moment that fans have been waiting for! And it's just done so perfectly. I laughed, I maybe cried a little . . . and most of all I remembered why I love these heroes so much!
Riordan loves to take old myths and do a modern spin with them and I can't say that I complain. I love learning about new portions of mythology that I either never heard of or had forgotten about! I think that this is a great series to spark anyone's imagination and get them interested in myth and legend. Because while everyone has heard of fantastical figures like Hercules, they may not be familiar with all of the characters thrown into this book.
I'd recommend this book for everyone. Seriously. I can't get enough of these books! I really need to get to the next book because like the rest of this series The Mark of Athena leaves you needing to know what's going to happen next. I have no idea what could happen in these adventures but can't wait to find out!
5/5 stars