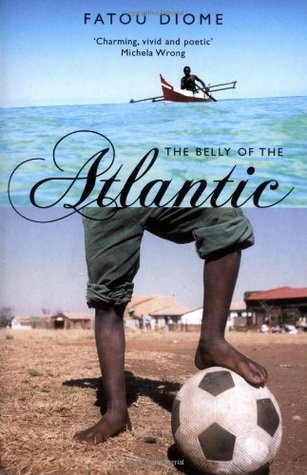 The Belly of the Atlantic
author : fatou diome
pages : [paperback] 192
summary :
"This charming, vivid and poetic book captures the poignancy of immigrant life and all the unresolved pain of Africa's relationship with its former colonial powers."—Michela Wrong
Salie lives in Paris. Back home on the Senegalese island of Niodior, her football-crazy brother Madické counts on her to get him to France, the promised land where foreign footballers become world famous. The story of Salie and Madické highlights the painful situation of those who emigrate. It is a moving account of one of the great tragedies of our time.
review :
I ended up wanting to like this book a lot more than I actually did. It was a good cultural study of a country that I know next to nothing about. Simply reading this gives a hint of the lives of the people there; of course I had to do more research to understand the relationship between France and Senegal that's so talked about throughout the novel. Some of the important themes include colonization and the aftereffects of separating from the overpowering country. These are things that I know people around me don't think affect countries today. We're so absorbed in our little bubble that we barely think about how other cultures continue to experience oppression every day simply because they grow up believing that another culture is so much better than them.
Salie was a good character but I feel like most of the people in this narrative were flat. This felt less like a story that had a beginning and end than a snapshot of their lives. While that is not necessarily bad, because I feel like it was well-written, it began to lose my interest. This may have also been because I have no real interest in reading about football or football matches, even if I might enjoy seeing them in real life.
I did like how wonderfully the village life was described, contrasting the lives of immigrants who live in France. I also liked hearing about the different perspectives each character had on France or Senegal's place within the world.
While I'd recommend this book to people who are looking to expand their reading or learn about other countries, I think that there might be better novels out there. I haven't experienced them for myself yet and obviously no book like that has entered the mainstream.
2/5 stars