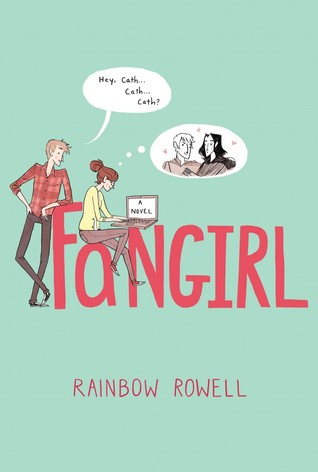 Fangirl
author : rainbow rowell (also wrote landline and eleanor & park)
pages : [hardcover] 433
memorable quote : In new situations, all the trickiest rules are the ones nobody bothers to explain to you. (And the ones you can't Google.)
favorite character : cath
summary :
A coming-of-age tale of fanfiction, family and first love
CATH IS A SIMON SNOW FAN. Okay, the whole world is a Simon Snow fan… But for Cath, being a fan is her life–and she's really good at it. She and her twin sister, Wren, ensconced themselves in the Simon Snow series when they were just kids; it's what got them through their mother leaving.
Reading. Rereading. Hanging out in Simon Snow forums, writing Simon Snow fanfiction, dressing up like the characters for every movie premiere.
Cath's sister has mostly grown away from frandom, but Cath can't let go. She doesn't want to.
Now that they're going to college, Wren has told Cath that she doesn't want to be roommates. Cath is on her own, completely outside of her comfort zone. She's got a surly roommate with a charming, always-around boyfriend; a fiction-writing professor who thinks fanfiction is the end of the civilized world; a handsome classmate who only wants to talk about words…and she can't stop worrying about her dad, who's loving and fragile and has never really been alone
For Cath, the question is: Can she do this? Can she make it without Wren holding her hand? Is she ready to start living her own life? And does she even want to move on if it means leaving Simon Snow behind?
review :
I absolutely loved this book! I've been meaning to read it for a while and this week I started it . . and couldn't put it down! I think it's because I loved Cath so much. Well, it was more of a love/hate relationship because it was so easy to see myself in Cath. A girl who'd rather spend most of her time with her laptop than actual human beings . . check! But I was worried that the book would somehow turn into a story where Cath starts going to parties and that miraculously makes her more social and have a better life. I should never have doubted Rainbow Rowell, the twists this book were going to have, and the amazing characters she's created.
Cath enters college in this book and moves through fears that I feel most people around this age can relate to. I know that I could empathize with her almost immediately. She's afraid of the little intricacies that go into heading to class or eating in the dining hall. She's not sure what to make of her roommate, even though she's spent most of her life sharing her room with her sister. While sometimes it was kind of funny, seeing the ways she'd avoid the things she didn't know how to do, at the same time it made me a little anxious because I know how much anxiety I get over those little tasks that no one bothers to explain to you how to do.
One thing about this book that I absolutely loved were the snippets of Simon Snow fanfiction as well as pieces of the actual book series. I'm pretty sure that anyone who's read a book has at least thought about, read, or written fanfiction, or you might have unwittingly encountered it in some way. I think that it's incredible that Cath is able to create such a following for herself online but I'd never imagined the kinds of pressure and expectation that come with something like that.
I think that I can't recommend this book enough. It has lovely writing and lovelier characters. It's a super fun read and also has its serious bits, without getting cheesy. I'm not usually one for contemporary romance so I feel like it takes a special kind of book to make me really like something in that genre and this is it.
5/5 stars