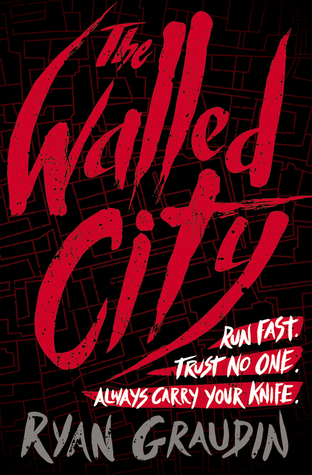 The Walled City
author : ryan graudin
pages : [hardcover] 432
memorable quote : Kids with roofs and hot food have better things to do than play survival of the thuggiest.
favorite characters : dai & jin
summary :
730. That's how many days I've been trapped.
18. That's how many days I have left to find a way out.
DAI, trying to escape a haunting past, traffics drugs for the most ruthless kingpin in the Walled City. But in order to find the key to his freedom, he needs help from someone with the power to be invisible….
JIN hides under the radar, afraid the wild street gangs will discover her biggest secret: Jin passes as a boy to stay safe. Still, every chance she gets, she searches for her lost sister….
MEI YEE has been trapped in a brothel for the past two years, dreaming of getting out while watching the girls who try fail one by one. She's about to give up, when one day she sees an unexpected face at her window…..
In this innovative and adrenaline-fueled novel, they all come together in a desperate attempt to escape a lawless labyrinth before the clock runs out.
review :
I absolutely loved this book! From the very first page, I was hooked.
The narration switches between Dai (a boy trying to complete a mysterious, dangerous mission), Jin (a girl disguised as a boy, trying to find her sister), and Mei Yee (a girl sold into prostitution by her own father). Throughout the novel, I was trying to determine who I loved hearing from the most and honestly didn't end up choosing. Each of them had a nice, distinctive voice, which I absolutely loved because sometimes narratives can get confusing when the characters all sound so similar. They were all brave, in their own ways, and I wanted each of them to get the happy ending they deserved.
I did really love Jin's journey. She sneaks into this city filled with criminals, with no law whatsoever, and lives on the streets for two years just on the chance that she might find her sister again. She's incredibly loyal and smart, fierce as anything, and she knows how to take care of herself. But she's not so callous that she doesn't care for those who need her.
Dai was a little harsher but I felt for him all the same. All of the characters have been through traumatizing events, obviously–no one escapes The Walled City unscathed. But he's constantly haunted by his past, wanting to make amends for it–though he's never sure that he's really a good person.
And even though Mei Yee was locked inside of the brothel, in such a limited setting her story became a powerful force. Just reading about how she longed to see the ocean just once, the other girls she befriended in that terrible place, and the horror she needed to put up with on a daily basis had me rooting for her. She's beautiful, yes, but mostly on the inside, where it counts for the most.
There's so much action in this novel and I loved it. From street thugs fighting each other to powerful drug lords taking out the competition, there's danger around every corner in this novel. It's one where you think you know what's going to happen–until you flip to the next page and there's another twist that will completely blow your mind.
I completely loved the ending, too. As soon as I finished this book, I knew that it was going to be one that I'll read over and over again; it's an instant favorite and I can't wait to see what this author puts out next because I'll be picking it up!
5/5 stars