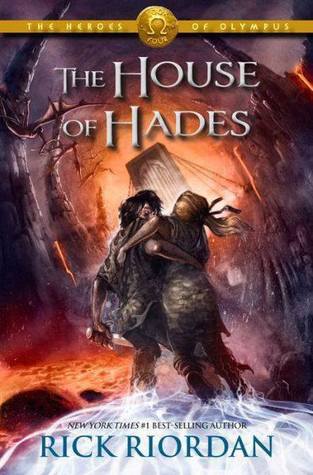 *** DO NOT READ book summary or review if you have not read the rest of this series! It will not spoil House of Hades, but discussing the book may spoil the previous books. Just know that everyone should read this series!! ***
The House of Hades
The Heroes of Olympus Book 4
Book 1: The Lost Hero
Book 2: The Son of Neptune
Book 3: The Mark of Athena
author : rick riordan
pages : [hardcover] 597
memorable quote : Tell the sun and stars hello for me.
favorite characters : percy & annabeth
summary :
At the conclusion of The Mark of Athena, Annabeth and Percy tumble into a pit leading straight to the Underworld. The other five demigods have to put aside their grief and follow Percy's instructions to find the mortal side of the Doors of Death. If they can fight their way through the Gaea's forces, and Percy and Annabeth can survive the House of Hades, then the Seven will be able to seal the Doors both sides and prevent the giants from raising Gaea. But, Leo wonders, if the Doors are sealed, how will Percy and Annabeth be able to escape?
They have no choice. If the demigods don't succeed, Gaea's armies will never die. They have no time. In about a month, the Romans will march on Camp Half-Blood. The stakes are higher than ever in this adventure that dives into the depths of Tartarus.
review :
I think it's obvious by now that I love and always will love the Percy Jackson books by Rick Riordan. As this spin-off series comes to a close, I'm convinced that I'll forever love the Heroes of Olympus books as well. It isn't just the writing; I tried to read one of his other series and just couldn't get into it. I love these characters so much and they're the ones that make it such a pleasure to read.
Of course I adore Percy and Annabeth, so reading so much about them in this book was GREAT . . . even if we were hearing so much because they were trapped in Tartarus. Basically the worst place in the universe and they're forced to fight their way through it. At least they're together, right? But that makes for some truly heartbreaking scenes and this book out of the four I've read thus far is the one that's made me the most emotional. Even though I was glad to see more of Percy's sass in here, despite their gloomy setting.
I don't know how everyone else feels about these new characters but I've grown to love them as well. I don't think that I could pick out any specific one that I love. I like Leo for his sense of humor, Hazel for her strength, Piper and Jason's relationship. I want to give Frank a big hug–and also have him teach me archery. Their group is so diverse, funny, and strong that I can't help but root for all of them! I want them to get the happy endings they deserve.
I think that Riordan is great at balancing the suspense and action of this book against the comedic moments with the characters. This book begins to reference some of the events of the original series, which makes me want to immediately pull those out and read them over again. It reminded me of little moments that I'd completely forgotten about and made me so nostalgic, just as I'm sure it did to Percy and Annabeth.
If you're a fan of the previous books, this one won't disappoint you. I'm so glad that I finally got around to reading it. I'd recommend it to anyone!
5/5 stars