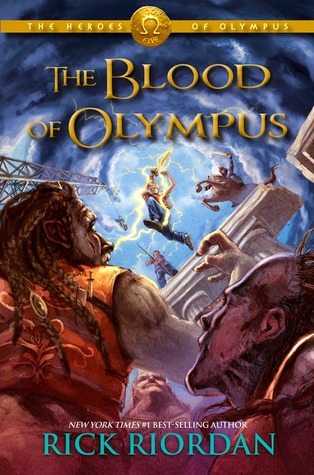 *** Do NOT read this review if you haven't started the Heroes of Olympus series! It won't spoil The Blood of Olympus, but the summary may spoil the previous books in the series! Go read them and then come back to tell me what you think!***
The Blood of Olympus
The Heroes of Olympus #5
Book 1: The Lost Hero
Book 2: The Son of Neptune
Book 3: The Mark of Athena
Book 4: The House of Hades
author : rick riordan
pages : [hardcover] 516
memorable quote :
"Like your zodiac sign?" Percy asked. "I'm a Leo."
"No, stupid," Leo said. "I'm a Leo. You're a Percy."
favorite characters : percy & annabeth
summary :
Though the Greek and Roman crew members of theArgo II have made progress in their many quests, they still seem no closer to defeating the earth mother, Gaea. Her giants have risen—all of them—and they're stronger than ever. They must be stopped before the Feast of Spes, when Gaea plans to have two demigods sacrificed in Athens. She needs their blood—the blood of Olympus—in order to wake.
The demigods are having more frequent visions of a terrible battle at Camp Half-Blood. The Roman legion from Camp Jupiter, led by Octavian, is almost within striking distance. Though it is tempting to take the Athena Parthenos to Athens to use as a secret weapon, the friends know that the huge statue belongs back on Long Island, where it "might" be able to stop a war between the two camps.
The Athena Parthenos will go west; the Argo II will go east. The gods, still suffering from multiple personality disorder, are useless. How can a handful of young demigods hope to persevere against Gaea's army of powerful giants? As dangerous as it is to head to Athens, they have no other option. They have sacrificed too much already. And if Gaea wakes, it is game over.
review :
I am so incredibly sad knowing that this is the final book in The Heroes of Olympus series. Not because of how it was executed (I've heard that some people are very disappointed, but I loved how it came out) but because it means I need to say goodbye to Percy and the gang. I'm not quite ready for that yet, after reading this and the previous Percy Jackson series, for years, so I'm going to keep living in denial.
The Blood of Olympus is our big finale, though it made me so mad that the demigod who started it all, Percy, doesn't get even one chapter from his point of view. Sure, there's plenty of his sass and bad jokes shown from other people's perspectives, but I miss hearing Percy speak for himself. This was one of my only pet peeves with this book.
The other is that it seemed rushed. I don't know if more should have been put into other books to make this one go more smoothly or if there should have been a sixth book just so major events could be given more time in the novel. I felt like gigantic things we've been waiting forever to see and hear about were just casually mentioned and didn't hold as much significance as they should have in the book.
But onto the good things! I loved seeing how much the characters have developed, especially ones like Percy, Annabeth, and Nico, because we can compare them to when they were even younger and more inexperienced. This is the book that really made me like Nico a lot; before I don't think I really understood why everyone was so fascinated by him. When he got to have his own quest off with Reyna and had plenty of chapters to speak for himself, I started to respect and like him a lot more.
And the new characters–I loved them, too. Honestly, most of them are on the same level for me (apart from Leo. I could hear from Leo all day!) but I liked all of them for different reasons. Most of all, I loved seeing some of them grow more confident, some of them be humbled, and others come into powers they'd never even known they could have. They were just so interesting to read about!
I'm going to hold this series in my heart for a very long time and I think I'll be recommending it forever. It's a set of books that any age could enjoy–there's adventure, romance, suspense, action, danger, and death. Basically, anything you could want (or love to hate) about a series, wrapped into one. With plenty of sarcastic commentary along the way.
5/5 stars