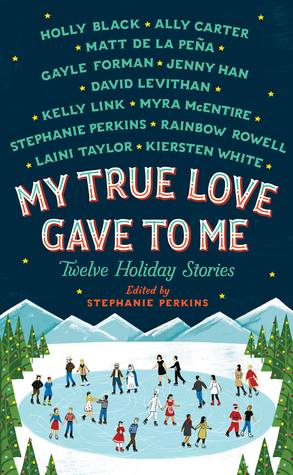 My True Love Gave to Me: Twelve Holiday Stories
edited by : stephanie perkins
writers : holly black, ally carter, matt de la pena, gayle forman, jenny han, david levithan, kelly link, myra mcentire, stephanie perkins, rainbow rowell, laini taylor, & kiersten white
pages : [hardcover] 320
favorite stories : "The Lady and the Fox", "It's a Yuletide Miracle, Charlie Brown", "The Girl Who Woke the Dreamer"
summary :
If you love holiday stories, holiday movies, made-for-TV-holiday specials, holiday episodes of your favorite sitcoms and, especially, if you love holiday anthologies, you're going to fall in love with MY TRUE LOVE GAVE TO ME: TWELVE HOLIDAY STORIES by twelve bestselling young adult writers, edited by international bestselling author Stephanie Perkins.
review :
I absolutely LOVED this collection of holiday short stories. I don't often buy anthologies but when I saw that this had stories featuring some of my favorite authors (including Laini Taylor, my all-time favorite author!) I just had to get it. I'm so glad that I did and decided to read it during the holiday season!
Honestly, it was difficult to choose my favorite stories in this collection because there was something that I liked about every story in here. Of course I really loved that romance played such a big part in most of the stories. Who doesn't love the idea of, well, love during the holidays? It's kind of a romantic time of year. And all of these stories were so well-written that even the faster romances don't seem that terrible insta-love (which can sometimes kill a book, in my opinion). Instant attraction is another thing, and one that is entirely realistic and typically well-written in these tales.
I also loved the variety. There are a few Jewish main characters, one gay narrator, one celebrating the Solstice, one who calls on the ancient spirit of an island during the holidays. Some stories incorporated fantastical elements; others were entirely realistic. I did tend to like the fantasy more, but thankfully the contemporary stories were written by some of my favorite names in contemporary young adult stories so I ended up enjoying a little bit of everything.
If you have to read one thing during the holiday season, pick this collection. There's something in it for everyone and it saves the best story for last. You'll love these characters, the holiday setting, and the romance. You'll be left wanting even more!
5/5 stars