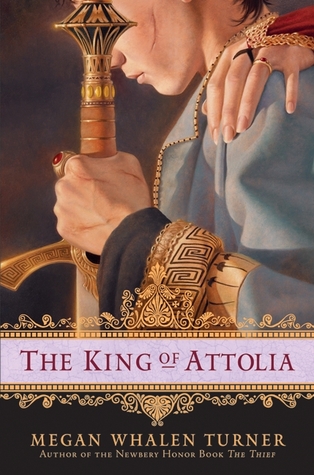 The King of Attolia
The Queen's Thief #3
Book 1: The Thief
Book 4: A Conspiracy of Kings
author : megan whalen turner
pages : [hardcover] 387
memorable quote : Sometimes, if you want to change a man's mind, you have to change the mind of the man next to him first.
favorite character : gen
summary :
By scheming and theft, the Thief of Eddis has become King of Attolia. Eugenides wanted the queen, not the crown, but he finds himself trapped in a web of his own making.
Then he drags a naive young guard into the center of the political maelstrom. Poor Costis knows he is the victim of the king's caprice, but his contempt for Eugenides slowly turns to grudging respect. Though struggling against his fate, the newly crowned king is much more than he appears. Soon the corrupt Attolian court will learn that its subtle and dangerous intrigue is no match for Eugenides.
review :
These books are some of my absolute favorites in the world. I read the first book in this series, The Thief, back when I was in middle school, and in the years since discovered that the book was actually the beginning of a series. Most of the books are really more like companions to one another, but of course when I recommend to someone one of the books I need to recommend them all because they're just that wonderful. I can't remember how many times I've read The King of Attolia before but this is the first time I've finished and thought to review it!
Many of the characters from the previous books of the series make an appearance. Eugenides and the Queen of Attolia feature most prominently, as well as a new main character, Costis. I remember that I didn't like him so much at first; I think it was because I wanted more of Gen in the book and so much is told from Costis' perspective. But I've grown to love him and his stubborn soldier personality. If anyone else was getting so much attention in this book, I'm glad that it was him. In previous books we haven't heard much from people who grew up and live in Attolia; it was time to learn more about the country and its people, rather than focusing on Sounis or Eddis.
Of course, Gen is still up to his old tricks even though he now has an immense responsibility as king. I never imagined that I'd ever see him in such a position–and he never thought that he would, either. It was entertaining to see how he acted with the court and flounced all of the rules that everyone else took so seriously!
The edition that I have includes a bonus short story at the end that tells a tale from Eddis' childhood. If you have the chance, you absolutely must read this as well because it's so fascinating and gives a new perspective of the gods and their interference within this world.
These are books I'd recommend to anyone, throughout my life. Everyone needs to read them!
5/5 stars