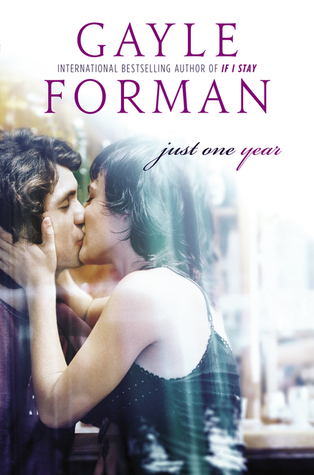 Just One Year
companion to: Just One Day
author : gayle forman
pages : 336
memorable quote : There's a difference between losing something you knew you had and losing something you discovered you had. One is a disappointment. The other feels like losing a piece of yourself.
favorite character :
summary :
Just One Day. Just One Year. Just One Read.
Before you find out how their story ends, remember how it began….
When he opens his eyes, Willem doesn't know where in the world he is—Prague or Dubrovnik or back in Amsterdam. All he knows is that he is once again alone, and that he needs to find a girl named Lulu. They shared one magical day in Paris, and something about that day—that girl—makes Willem wonder if they aren't fated to be together. He travels all over the world, from Mexico to India, hoping to reconnect with her. But as months go by and Lulu remains elusive, Willem starts to question if the hand of fate is as strong as he'd thought. . . .
The romantic, emotional companion to Just One Day, this is a story of the choices we make and the accidents that happen—and the happiness we can find when the two intersect.
review :
I was very excited to read this companion novel to Just One Day because I love Gayle Forman's books and wanted to hear more about these characters, particularly Willem because now we get to hear a little from his point of view. Unfortunately, this book just wasn't up to par for me.
I know that many people will be disappointed because this is a companion novel, not a sequel. It's Willem's story about what goes on with his life while "Lulu's" story in Just One Day takes place. Same timeline, different details. I knew this going in, so I wasn't disappointed, but I've seen so many reviews that were negative just because people were expecting something different from Gayle Forman. I don't fault her for writing the book she wanted to, rather than one she might feel pressured into. Besides, I kind of feel like it's her 'thing' to write ambiguous endings that are somehow simultaneously perfect and frustrating.
While I did like some portions of this book, overall Willem's narration just wasn't very interesting and this did nothing to make me like him more as a character. I wasn't very intrigued by any of the adventures he went on, the travel he was able to experience. I did manage to finish the book but it was very dull and boring to me. Although I didn't like him any less for all that I was learning about him, none of the supporting characters were captivating. I kept getting them mixed up with one another or I'd want to skip to another chapter in the hopes that he'd meet other people to speak with.
I don't think I'll recommend this book to anyone, though I will recommend Just One Day. I absolutely loved that book, though I could have done without the companion novel.
2/5 star