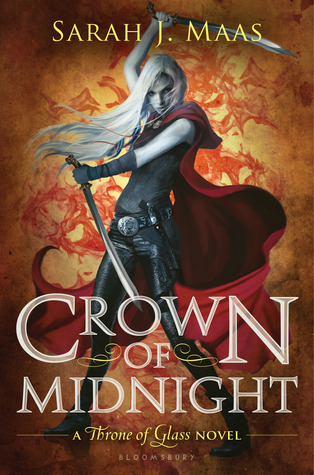 Crown of Midnight
Throne of Glass #2
author : sarah j. maas
pages : [hardcover] 420
memorable quote : I worry because I care. Gods help me, I know I shouldn't, but I do. So I will always tell you to be careful, because I will always care what happens.
favorite character : chaol
summary :
"A line that should never be crossed is about to be breached.
It puts this entire castle in jeopardy—and the life of your friend."
From the throne of glass rules a king with a fist of iron and a soul as black as pitch. Assassin Celaena Sardothien won a brutal contest to become his Champion. Yet Celaena is far from loyal to the crown. She hides her secret vigilantly; she knows that the man she serves is bent on evil.
Keeping up the deadly charade becomes increasingly difficult when Celaena realizes she is not the only one seeking justice. As she tries to untangle the mysteries buried deep within the glass castle, her closest relationships suffer. It seems no one is above questioning her allegiances—not the Crown Prince Dorian; not Chaol, the Captain of the Guard; not even her best friend, Nehemia, a foreign princess with a rebel heart.
Then one terrible night, the secrets they have all been keeping lead to an unspeakable tragedy. As Celaena's world shatters, she will be forced to give up the very thing most precious to her and decide once and for all where her true loyalties lie…and whom she is ultimately willing to fight for.
review :
While I wasn't in love with Throne of Glass, I was excited to read the sequel–and I think that I liked this second book more than the first! Crown of Midnight focuses more on the action and adventure than the romance between characters, which was all that I wanted. Even though I'm sure that there's much more to come, and I have my predictions made about what will happen next, there were some surprises in this book that I just didn't see coming.
On the other hand, unfortunately, I think one of the big reveals in this book was something I'd seen coming since the middle of book one. I'm not sure if readers were supposed to pick up on the subtle hints about it or not so for me, the ending kind of fell short of amazing. I'd really like to hear about what other people thought about the conclusion and if they were surprised by what was revealed there!
While there wasn't so much focus on the love triangle, I was disappointed because we still didn't learn much more about Chaol or Dorian outside of their undoubtedly undying affections for Celeana. They never really seem to fixate on anything but her which, I guess, is understandable, but also annoying when they have so much more potential! It's the captain of the guard and the crown prince–how much more potential could you have? They both have backstories that could be learned, or other duties that they could  be performing. Their lives shouldn't revolve around Celeana, should they? It wouldn't be safe for the kingdom.
I'm definitely going to read book three in hopes that this series only keeps going upward for me. I still think that there's so much that can be fleshed out and told so I'm excited to see what Maas decides to do with her characters and story. I'm still uneasy about what may come and at the moment it isn't a favorite series of mine, even though it's fun to read. It's something that I'll recommend to friends–if only to show them how much of a fun, badass main character Celeana is!
4/5 stars