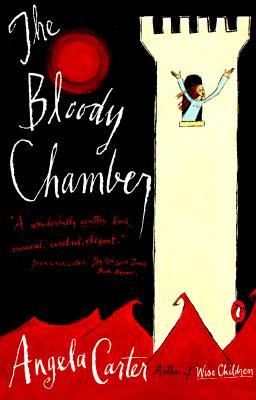 The Bloody Chamber & Other Stories
author : angela carter
pages : 126
memorable quote:
She herself is a haunted house. She does not possess herself; her ancestors sometimes come and peer out of the windows of her eyes and that is very frightening
summary :
From familiar fairy tales and legends – Red Riding Hood, Bluebeard, Puss-in-Boots, Beauty and the Beast, vampires, werewolves – Angela Carter has created an absorbing collection of dark, sensual, fantastic stories.
review :
I had to read this collection of fairy tales for an independent study I'm doing. While they weren't my favorite retellings, I think that these stories are not only well-written but also thought provoking. They're tales that will leave you to think. You won't just ponder the connection to and differences from the original story and Carter's version. You'll also think through your own interpretation of the endings, as well as the symbolism that crops up in each story.
Though this collection was short, it's sure to stand out. The stories are bloody. Many of them aren't happy. But that seems to be a trend, not only in modern retellings but in the original stories themselves! All of us like to hear a good story with a happily ever after but things don't always work out that way. Carter doesn't seem foreign to that concept, though she does put her own spin on the idea of a 'realistic', unhappy ending. There's no tragedy simply for the sake of it. It's impressive, the way she weaves her words together and makes even the smallest of instances in her stories seem to have the biggest share of the impact.
I'd recommend this collection to anyone with an avid interest in fairy tales. While there are other retellings that I'll pick up to read over and over again, I'm not sure that this collection will be among them even though it is very well-done. I think that it's worth at least one read and many will like it even more than I did.
3/5 stars