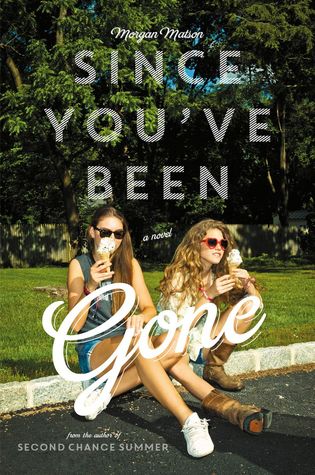 Since You've Been Gone
author : morgan matson
pages : [hardcover] 449
memorable quote : I somehow knew that the particulars didn't matter. She was my heart, she was half of me, and nothing, certainly not a few measly hundred miles, was ever going to change that.
favorite character : frank
summary :
The Pre-Sloane Emily didn't go to parties, she barely talked to guys, she didn't do anything crazy. Enter Sloane, social tornado and the best kind of best friend—the one who yanks you out of your shell.
But right before what should have been an epic summer, Sloane just… disappears. No note. No calls. No texts. No Sloane. There's just a random to-do list. On it, thirteen Sloane-selected-definitely-bizarre-tasks that Emily would never try… unless they could lead back to her best friend.
Apple Picking at Night? Okay, easy enough.
Dance until Dawn? Sure. Why not?
Kiss a Stranger? Um…
Getting through Sloane's list would mean a lot of firsts. But Emily has this whole unexpected summer ahead of her, and the help of Frank Porter (totally unexpected) to check things off. Who knows what she'll find?
Go Skinny Dipping? Wait … what?
review :
I was really looking forward to this novel not only because I've heard great things about it but also because I had the privilege to meet Morgan Matson at BookCon last May! She was so sweet and inviting that I knew I had to give her work a try. While I really did enjoy reading this novel and will definitely pick up more of her work, to me this was more of a feel-good read than an all=time favorite.
Since You've Been Gone is filled with many convenient coincidences which make the novel quirky and interesting. Honestly, if I only had one friend and she abandoned me spontaneously, not only would I be too depressed by that but I know I'd end up spending that summer alone because people who've known me my entire life but never paid any attention to me wouldn't spontaneously become my best friends. And I know that's because I'm a shy person and don't go outside of my element. But Emily's whole characterization is based around her shyness and unwillingness to go outside of herself more than she absolutely has to, or unless there's an extrovert like Sloane around to draw her out of her shell. Honestly, most of the time Emily didn't seem shy to me at all, just a little awkward and very afraid of horses.
The romance was sweet. At first I didn't think I was going to like it at all but in the end it really grew on me. I think it was well-done, and wasn't pushed to the forefront of the story which was really refreshing to see in a YA contemporary novel. The bulk of the story was about Sloan and Emily, like it should have been, and it was great to read about their friendship–even though if someone pulled a Sloan and up and left on me I'm not sure I'd take it as well as Emily did.
If you like YA books that are summer-y, full of fun adventures, and are a quick read, this is definitely a book for you. It's a good story with some heart thrown into it and this will definitely keep your interest while you read it. While it might not be the best book you've read, it's a good book to reach for when you're feeling low, are on vacation, or need a break between emotionally draining novels.
3/5 stars