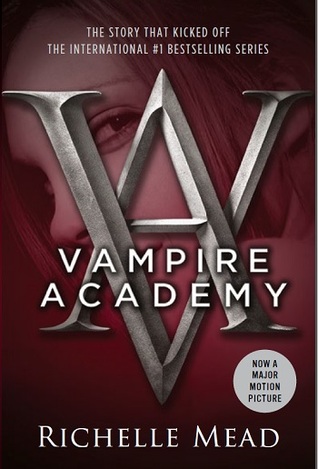 Vampire Academy
author : richelle mead
pages : [paperback] 332
memorable quote : Only a true best friend can protect you from your immortal enemies.
favorite character : rose
summary :
St. Vladimir's Academy isn't just any boarding school—it's a hidden place where vampires are educated in the ways of magic and half-human teens train to protect them. Rose Hathaway is a Dhampir, a bodyguard for her best friend Lissa, a Moroi Vampire Princess. They've been on the run, but now they're being dragged back to St. Vladimir's—the very place where they're most in danger. . . .
Rose and Lissa become enmeshed in forbidden romance, the Academy's ruthless social scene, and unspeakable nighttime rituals. But they must be careful lest the Strigoi—the world's fiercest and most dangerous vampires—make Lissa one of them forever.
review :
I started reading Vampire Academy because I've been hearing a lot about this series, there's now a movie about it, and also the library I visited was the smallest thing in the world and didn't have a large selection. I figured now was the time I needed to give it a go, because I always wanted to give it a shot–even though if I ended up really loving the series, that meant there'd be a LOT of other books for me to read because it's a long one and now there are spin-off books, too. Well, unfortunately, Vampire Academy just didn't make the cut for me, like I'd feared it would.
First of all, I did like and appreciate how snarky Rose could be and following her adventures was mildly enjoyable. Still, the writing didn't leave much of an impression to me because to my taste it was fairly bland with no exciting descriptions, no hint of intrigue. Instead halfway through the book I still wasn't certain of what the plot would be. Shouldn't each book, even in a series, have its own little plot? Basically I think that this first book is being used to set up something in the rest of the books. Much of it was fairly predictable. I don't know if there's going to be some big reveal later on that would shock me, but I don't want to slosh through more books to find out.
Honestly, I can see why some people might enjoy these books. They're definitely not hard to read and if you're into vampires, the take they have on those creatures is pretty interesting. But for me, I was a little bored. I wanted more action, adventure, cool vampire moments–not endless, repetitive school and training days and then predictable little plot twists.
I don't think I'll be recommending this book or this series to anyone–and it already has enough followers that it won't matter in the least. I'll just say to anyone hanging on the edge like I was, thinking they should at least read the first book to see what it's all about–maybe pick up something else instead.
2/5 stars