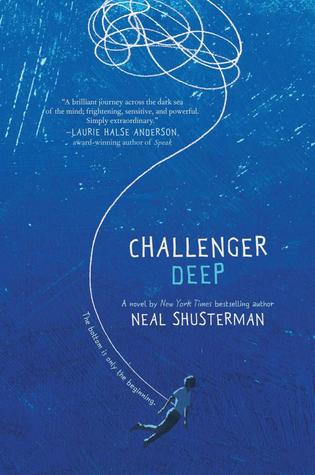 Challenger Deep 
author : neal shusterman
pages : [hardcover] 320
favorite character : caden
summary :
Caden Bosch is on a ship that's headed for the deepest point on Earth: Challenger Deep, the southern part of the Marianas Trench.
Caden Bosch is a brilliant high school student whose friends are starting to notice his odd behavior.
Caden Bosch is designated the ship's artist in residence, to document the journey with images.
Caden Bosch pretends to join the school track team but spends his days walking for miles, absorbed by the thoughts in his head.
Caden Bosch is split between his allegiance to the captain and the allure of mutiny.
Caden Bosch is torn.
A captivating and powerful novel that lingers long beyond the last page, Challenger Deep is a heartfelt tour de force by one of today's most admired writers for teens.
review :
Neal Shusterman's Challenger Deep is everything I wanted in a book and more. To be honest, when I requested it I didn't know much about the premise. That's how deeply I trust Shusterman as an author: I know that whatever he writes, whatever the genre, his writing will be so wonderful that I'll be sure to enjoy it. This latest novel is no exception and is as emotionally packed–and draining–as his other books I've read.
Challenger Deep is more grounded in reality than other books I've enjoyed by him, like the Skinjacker trilogy and Unwind dystology. And yet, because Caden can no longer tell the difference between what is real and what is only in his head, this book ended up feeling more surreal than actual fantasy books. I think that Shusterman did a fantastic job in writing about mental illness. Though I've never experienced something like this myself, I was touched even more when I found out that he'd based his characters around the real-life experiences people close to him have had. WhileI didn't think he'd approach such a topic lightly, it was another blow to think that a situation like this isn't just a great story to some people. Instead it's a depiction of the daily struggle they go through.
To me, mental illness can seem more terrifying than any sea monster or treacherous ship captain. It's something most people prefer not to speak of and there are so many stigmas attached to labels of illness. Shusterman wrote about that, too. There were so many major issues that he managed to thread into this novel without throwing his messages in the reader's face, which I think is yet another thing that made this novel so beautiful.
It's one that I'm definitely going to reread and I need to buy a physical copy of it to add to my collection. I think anyone could learn something from Challenger Deep–and enjoy reading it while they're at it. Even though it can get dark, there's Caden's humor to light the way, and you'll find yourself rooting for him through every step.
5/5 stars