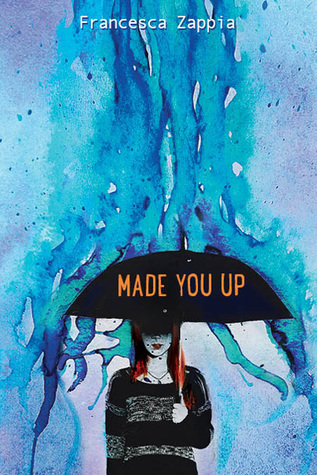 Made You Up
author : francesca zappia
pages : [hardcover] 448
favorite characters : . . . all of them?
publishing date : may 19th
summary :
Reality, it turns out, is often not what you perceive it to be—sometimes, there really is someone out to get you. Made You Up tells the story of Alex, a high school senior unable to tell the difference between real life and delusion. This is a compelling and provoking literary debut that will appeal to fans of Wes Anderson, Silver Linings Playbook, and Liar.
Alex fights a daily battle to figure out the difference between reality and delusion. Armed with a take-no-prisoners attitude, her camera, a Magic 8-Ball, and her only ally (her little sister), Alex wages a war against her schizophrenia, determined to stay sane long enough to get into college. She's pretty optimistic about her chances until classes begin, and she runs into Miles. Didn't she imagine him? Before she knows it, Alex is making friends, going to parties, falling in love, and experiencing all the usual rites of passage for teenagers. But Alex is used to being crazy. She's not prepared for normal.
Funny, provoking, and ultimately moving, this debut novel featuring the quintessential unreliable narrator will have readers turning the pages and trying to figure out what is real and what is made up.
review :
I really, really loved reading this book. Because I've been so busy lately, it's been hard to push myself to read when I have a little free time, and this is the first book I've reached for in a while that's had me shoving everything else aside in my life so I'd be able to finish this.
Made You Up by Francesca Zappia is a great take on how people suffering mental illness struggle to find some kind of normalcy in their lives. Because Alex is normal; she has her own hobbies and life goals, striving to get into a great college like any other high school senior. Except she's the one who needs to worry that someone will find out that she's schizophrenic. She's the one who needs to remember to take her medication or else risk her hallucinations getting worse–and she already can't tell what's real and what's not. I like how Zappia wrote the novel so that it's even difficult for the reader to decide what is reality and what's the hallucination. It's painful to experience Alex's struggle, made so much worse because most people are afraid to talk about mental illnesses and they're so stigmatized.
As such, I thought it was important and awesome that Zappia included a cast of characters who reacted to Alex and her situation in a variety of ways–ignoring it, criticizing it, or helping it. And the novel isn't completely focused around the illness, either. More than that, it's about a teenage girl trying to get her life together, and at the same time seeing if she can help a classmate into a better life. Miles was just as awesome of a character to me as Alex was. I loved that he had his own quirks and issues. No one is perfect in reality and that's reflected accurately in the book. His relationship with Alex was equally sweet and nail-biting as with most high school romances, it's uncertain of whether things will blossom between them or fade completely. I love that this book isn't a cookie-cutter contemporary romance. I honestly had no idea of where the book was headed or what could come next. It's hard for me to find a book set in a modern setting, in high school, that doesn't feel absolutely predictable. I didn't see this ending coming, and it only makes me more excited to read more by Francesca Zappia. Whatever she happens to come up with next!
I'm going to recommend this book to anyone, and you should read it too!
4/5 stars