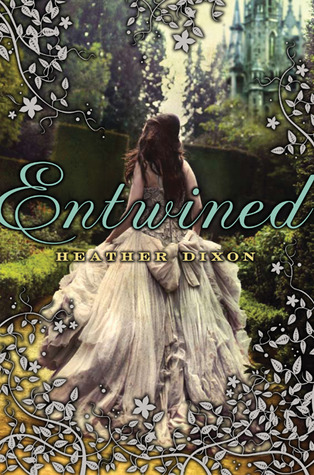 Entwined
author : heather dixon
pages : hardcover, 472
memorable quote : "Down with tyranny!' Bramble cried. 'Aristocracy! Autocracy! Monocracy! Other ocracy things! You are outnumbered, sir! Surrender!" 
favorite character : lord teddie
summary :
Just when Azalea should feel that everything is before her—beautiful gowns, dashing suitors, balls filled with dancing—it's taken away. All of it. And Azalea is trapped. The Keeper understands. He's trapped, too, held for centuries within the walls of the palace. So he extends an invitation.
Every night, Azalea and her eleven sisters may step through the enchanted passage in their room to dance in his silver forest, but there is a cost. The Keeper likes to keep things. Azalea may not realize how tangled she is in his web until it is too late.
review :
I've been excited to read this book for a while and on a long car ride finally got around to opening it up on my ereader. Unfortunately, even though I did like some elements of Entwined, it didn't sweep me off of my feet.
At first, I was enchanted with the twelve princesses and their incessant need to dance. I loved that they all had distinct personalities so even though there were far too many girls to keep track of, it was easily managed. Jessamine and Bramble were two of my favorites, though honestly there wasn't a single one that I truly disliked. Except, perhaps for Azalea, which is unfortunate because as the oldest sister (and they were named alphabetically, which helps you to keep track of their ages) she is our protagonist. And sometimes, for the future Queen of the kingdom (if it is a kingdom? They talk about prime ministers and how poor the royal family is so much that it's a wonder they're significant at all) she doesn't make the best of decisions. Other times, I was frustrated because characters around her haven't been teaching her the things she'll need to learn in order to rule wisely. Even if they give the King most of the responsibility, Azalea doesn't seem to know about much besides dancing and keeping her sisters happy.
The book started fairly slow and I wasn't certain of where it was going to go, beyond the parameters of the fairy tale it's loosely based on. There are several gentlemen present within the book and I liked how it wasn't immediately obvious which one would become involved with Azalea (and the suspense wasn't generated by a love triangle, either!). When magic entered the plot more prominently, that interested me, and action picked up alongside my interest. And yet . . . Azalea always seemed to faint or get herself knocked out at the most interesting moments.
Books based on fairy tales are my favorites. I love to see where the author was inspired and where they decided to deviate from the well-known plotline. Even though Entwined references a tale that doesn't see much love these days, I still don't think it was strong enough for me to happily recommend it to anyone. There were bits and pieces I enjoyed yet, overall, I was left immediately wanting to grab for a better book.
2/5 stars