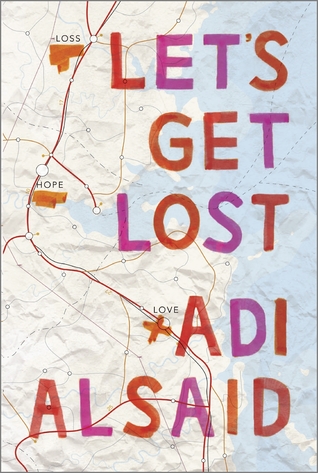 Let's Get Lost
author : adi alsaid
pages : [hardcover] 352
favorite character : hudson
memorable quote : Funny, how it took a little bit of pain to remember that certain parts of yourself were alive.
summary :
Five strangers. Countless adventures. One epic way to get lost.
Four teens across the country have only one thing in common: a girl named LEILA. She crashes into their lives in her absurdly red car at the moment they need someone the most.
There's HUDSON, a small-town mechanic who is willing to throw away his dreams for true love. And BREE, a runaway who seizes every Tuesday—and a few stolen goods along the way. ELLIOT believes in happy endings…until his own life goes off-script. And SONIA worries that when she lost her boyfriend, she also lost the ability to love.
Hudson, Bree, Elliot and Sonia find a friend in Leila. And when Leila leaves them, their lives are forever changed. But it is during Leila's own 4,268-mile journey that she discovers the most important truth— sometimes, what you need most is right where you started. And maybe the only way to find what you're looking for is to get lost along the way.
review :
I really, really enjoyed reading this book and I'm definitely going to recommend it to others.
First of all, I loved the way that it was split up into five sections, one for each other the characters. Four of them are only connected by Leila, who meets them on her quest to see the Northern Lights. She has quite a long way to drive as she starts at the very bottom of the United States and works her way upward, with no timeline in mind–only that she'll continue to go North. This leaves as much time as she wants at any pit stop Leila makes and allows her to make some awesome and unusual friends along the way.
My favorite story had to be Hudson's because I think it was the one that I currently relate to the most. Planning for the future, with the pressure of big events looming on the horizon, and not really knowing what you want to do with your life. His life seemed interesting, and was fun to read about. I loved the treasure hunt he took Leila on–something that you wouldn't expect, nothing like what you would picture when you hear those words.
Alsaid's other characters are just as interesting, though they didn't captivate me as much. In the middle of the book I was lost for a short while, wondering at Leila's motivations because despite the fact that she is the only one continuously present, she is the one you know least about. A lot was cleared up for me in the end, with a conclusion that I never would have expected and that I think a lot of people will enjoy.
I haven't enjoyed many of the books I've been reading lately so I was really glad to have this one, which made me feel so much. The romance had me giddy, the suspense had me on the edge of my seat, and the grief had my heart aching. I'll be recommending this one, always.
4/5 stars