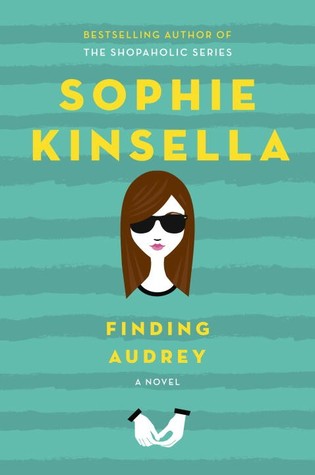 Finding Audrey
author : sophie kinsella
pages : [hardcover] 288
favorite character : felix
summary :
From the #1 New York Times bestselling author of the Shopaholic series comes a terrific blend of comedy, romance, and psychological recovery in a contemporary YA novel sure to inspire and entertain.
An anxiety disorder disrupts fourteen-year-old Audrey's daily life. She has been making slow but steady progress with Dr. Sarah, but when Audrey meets Linus, her brother's gaming teammate, she is energized. She connects with him. Audrey can talk through her fears with Linus in a way she's never been able to do with anyone before. As their friendship deepens and her recovery gains momentum, a sweet romantic connection develops, one that helps not just Audrey but also her entire family.
review :
I didn't know much about this novel before I dove into it, other than realizing I haven't read many books that deal with anxiety. Because I have anxiety myself, and know that it is a different experience for any person with it, I wanted to hear Audrey's story. She wasn't always filled with uncontrollable anxiety; something (we never quite find out what, which isn't satisfying) happened at school and she's spiraled downward ever since.
Unfortunately, I just wasn't captivated by this book.
I think this book was meant to be part comedy and honestly the humor wasn't for me. In the first half of the book, much of the plot was overtaken (and kept referring back to) an incident between Audrey's mother and brother, Frank. I found it kind of alarming, not funny, and think maybe it was something they should have been a little concerned about. Throughout the novel Audrey's mother is obsessive, controlling every minuscule aspect of Frank's life . . . while she seems to leave Audrey untouched. I don't know if I was supposed to find the obsession enjoyable to read about but I think it was a really unnecessary portion of the story.
For a girl who's afraid to even leave her house and look her family in the eye, Audrey finds it surprisingly easy to get herself a boyfriend. And, as any sibling would know, dating a brother or sister's friend would be slightly awkward. Frank is surprisingly okay with the fact that his friend suddenly doesn't want to hang out with him anymore–only Audrey. And never mentions anything about it. Even understanding her anxiety, I think he would have brought SOMETHING up to her. The relationships in this novel weren't just exaggerated to try to make something funny or cute (and I have to admit, there were a few adorable moments between Audrey and Linus), they were completely twisted out of proportion.
I don't think that I'll end up recommending this novel. The characters weren't particularly gripping and the plot, revolving around Audrey finding herself again, was mediocre. I do give this book a star for the few cute scenes between Audrey and Linus and another star for accurately portraying a kind of anxiety.
2/5 stars