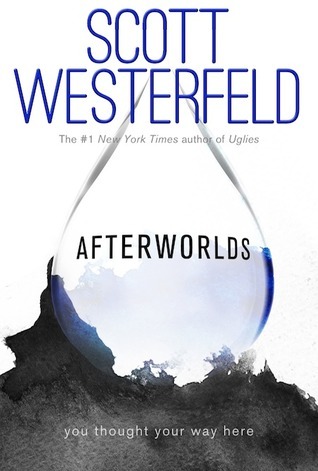 Afterworlds
author : scott westerfeld
pages : [hardcover] 599
favorite character : darcy
memorable quote : Hiding from the truth was worse than being lied to.
summary :
Darcy Patel has put college and everything else on hold to publish her teen novel, Afterworlds. Arriving in New York with no apartment or friends she wonders whether she's made the right decision until she falls in with a crowd of other seasoned and fledgling writers who take her under their wings…
Told in alternating chapters is Darcy's novel, a suspenseful thriller about Lizzie, a teen who slips into the 'Afterworld' to survive a terrorist attack. But the Afterworld is a place between the living and the dead and as Lizzie drifts between our world and that of the Afterworld, she discovers that many unsolved – and terrifying – stories need to be reconciled. And when a new threat resurfaces, Lizzie learns her special gifts may not be enough to protect those she loves and cares about most.
review :
I've been looking forward to reading Afterworlds ever since it was released. Because it's a huge book (nearly 600 pages!) I thought that I would need a lot of time to set aside and fully enjoy this novel. Instead, it's pretty easy to get through because even though it's told in dual narration both portions of the story are interesting. I've never read anything like this before but knew that it had to be great. This is Scott Westerfeld; nothing he ever writes is disappointing.
I do have to admit that toward the end of the book I liked Darcy's chapters–involving the real world and a glimpse at the inside of the publishing industry from an author's perspective–more than I did Lizzie's–where she's discovering more about herself, her gifts, and the afterlife. I loved reading about Darcy attend things like Book Expo America because that's something I can clearly picture in my mind and I loved reading her reactions to having to publicize herself. There's so much that goes into creating excitement for a book and making it perfect before it's released. Lizzie's story, on the other hand . . It was gripping at the beginning. There were those first chapters that were awesome–as Darcy and her agent and editor continued to agree on. The rest, I wasn't so sure that I would have been reading if this novel had been split in two. One for Darcy's story, one for Lizzie's. I began to like Lizzie's half for the little details I could see in it, the changes that Darcy was making to her story because of the people she met in NYC as well as the suggestions others made for editing the story. The romance in it was so insta that it was nonexistent for me. I did like a few unconventional choices that Lizzie made, however, that kept it from being a typical paranormal romance.
I think this is a book that many will love. You just need to get past the intimidating look of it's bulk. Honestly the pages fly by so quickly, it isn't difficult to read this in a few days.
Anyone who is interested in writing or publishing will definitely get a kick out of the ways Darcy immerses herself in this world. From YA Drinks Night to having women publishing in her same year referring to themselves as 'debut sisters', there are hilarious moments mixed with the anxiety-inducing ones. Such as the expensive nature of living in NYC, the bated breath that comes with waiting for edits to come out, and the clinging fear that remains after finishing one book–because what if that was a fluke and it won't happen again?
Even though I rented this one from the library, I'm going to buy myself a copy because I'll definitely reread it in the future.
4/5 stars