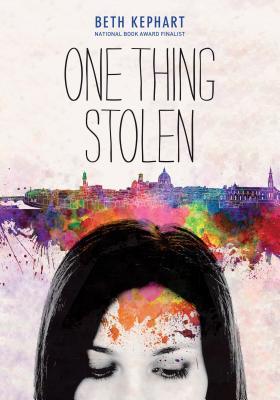 One Thing Stolen
author : beth kephart [also wrote going over]
pages : [hardcover] 272
favorite character : nadia
summary :
Something is not right with Nadia Cara. She's become a thief. She has secrets she can't tell. And when she tries to speak, the words seem far away. In Florence, Italy, with her epicurean brother, professor father, and mother who helps at-risk teens, Nadia finds herself trapped by her own obsessions and following the trail of an elusive Italian boy whom no one but herself has seen. While her father researches a flood that nearly destroyed Florence in 1966, Nadia wonders if she herself can be rescued—or will she disappear?
Set against the backdrop of a glimmering city, One Thing Stolen is an exploration of obsession, art, and a rare neurological disorder. It is about language and beauty, imagining and knowing, and the deep salvation of love.
review :
I was so interested in reading this book because I really like Kephart's writing style. I've also read her novel Going Over and while it isn't a favorite of mine, I do love her writing. I think I feel similarly about One Thing Stolen — though this is a story that is going to haunt my thoughts for a little while now that I've finished it. One Thing Stolen is told in three parts, each featuring a different point of view and Kephart flawlessly changes her style and tone to reflect each narrator.
This book is unique (at least to my reading experience) in that it deals with a teenager facing a neurological disorder, possibly a type of dementia. Although many of the books I've read lately have spoken about mental illness, that has tended toward OCD and schizophrenia. Nadia suffers from something we typically only think of the elderly facing and she's so incredibly young. I think it's so important that books like this continue to be written because the more these diseases are spoken about, the more people in general will understand them as well as the people who suffer through them daily.
Nadia is the first narrator to the story (I won't spoil who the others are) and her thoughts are chaotic to say the least. She's an unreliable narrator and she can't make sense of things for herself so she's constantly pleading for the reader to understand it all for her. She can understand words but finds it nearly impossible to communicate anything about herself. Being trapped like that is unimaginable, utterly terrifying, and as the story continues you're fully immersed in Nadia's world and trying to pick it apart alongside her.
Unfortunately, for all that I loved about this book, there were parts that just didn't work for me. I wasn't feeling that spark in the narrative that would compel me to continue reading when I finished each chapter. There is a love interest that, well, didn't interest me too much. Several things are introduced that seem like they should be major parts of the book that are never fully acted upon.
Although I think that many people may enjoy this book, it simply wasn't for me.
3/5 stars