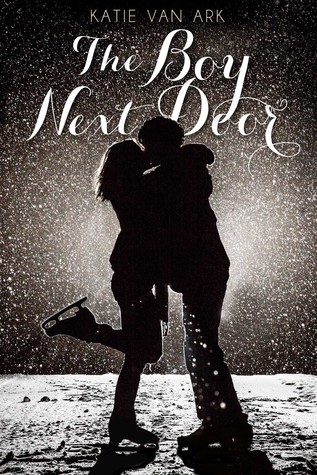 The Boy Next Door
author : katie van ark
pages : [paperback] 347
summary :
Maddy Spier has been in love with the boy next door forever. As his figure skating partner she spends time in his arms every day. But she's also seen his arms around other girls—lots of other girls.
Gabe can't imagine skating with anyone but Maddy, and together they have a real chance at winning some serious gold medals. So, he's determined to keep thinking of her like a sister. After all, he's never had a romantic relationship that lasted for more than two weeks.
But when their coach assigns a new romantic skating program, everything changes. Will this be the big break that Maddy's been hoping for or the big breakup that Gabe has always feared?
review :
I was super excited to read this book, especially because I was fortunate enough to receive a copy to review. Unfortunately this book didn't work for me and 100 pages in (I need to give every book at least that much of a chance!) I threw in the towel.
The Boy Next Door has a cute premise: Maddy and Gabe are ice skating partners, have been for years, and have high hopes of making it big in the skating world. Now that they're older, their musical numbers are becoming more romantic. Maddy has always had a crush on Gabe and sees this as their big chance to finally get together; Gabe is convinced that a relationship off the ice would end badly and ruin the partnership they've spent years cultivating. Honestly, I could understand both points of view. Maddy doesn't want to live her life wondering 'what if?' and never getting a shot at this relationship; Gabe doesn't want to break something that's already perfect.
The characters felt too forced to me. Maddy doesn't react well to Gabe's responses to her advances. She doesn't respect his decision and instead is determined to make him jealous, seduce him, ignore him–all of the above in an attempt to see her as a girlfriend, not just a female partner. After the initial shock of Maddy's reaction to their romantic musical number (featuring of course music from Romeo and Juliet), Gabe gets pretty wishy-washy over what he wants. And that's where I finally lost interest.
People who love figure skating will like this book. I think. I know I'd be terrible at the sport but enjoy watching it and most of what I was reading had to do with the characters worrying over whether they'd get together or if they should be kissing or how to be more romantic on the ice. It started to get very repetitive, the thoughts each character would have about their personal worries and fears. It just wasn't for me.
1/5 stars