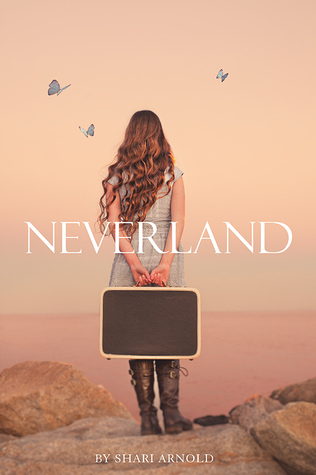 Neverland
author : shari arnold
pages : [hardcover] 358
favorite characters : jilly & meyer
memorable quote : Live as if they're going to tell stories about you.
summary :
It's been four months since seventeen-year-old Livy Cloud lost her younger sister, but she isn't quite ready to move on with her life — not even close. She'd rather spend her time at the Seattle Children's hospital, reading to the patients and holding onto memories of the sister who was everything to her and more.
But when she meets the mysterious and illusive Meyer she is drawn into a world of adventure, a world where questions abound.
Is she ready to live life without her sister? Or more importantly, is she brave enough to love again?
In this modern reimagining of Peter Pan, will Livy lose herself to Neverland or will she find what she's been searching for?
review :
I LOVE Peter Pan. Obsessively. I love the characters, I love Neverland–the whole shebang. What I also love is trying out retellings of the tale. Retold fairy tales are some of my favorite things to read, ever, and there are some great ones out there so I'm extremely excited that they continue to be published. Neverland is imperfect, but I think that some of the book's best qualities come through in its imperfections.
Livy was interesting. I thought that she was a sweet girl and liked her as soon as I realized why she spent so much time reading to the children at the hospital. Those kids need as much happiness in their lives as they can get and Livy is there to shine for them, as long as she can. She's struggling through life after her little sister died. Her parents are distant. And then there's a little spark of something when a boy–well, more than a boy–starts listening in to her stories. Enter Meyer, who was so perfectly Peter that sometimes I wanted to smack some sense into him. And Livy was Wendy, with her own twist. Because of all she's already experienced, she's much less . . . naive. She's willing to try new things with Meyer and invite some fun back into her life but stops whenever it might blend into danger.
Neverland will keep you hooked–even though the 'Captain Hook' of the story has both of his hands. The concept of who the villain might be in the novel continues to twist and change, which I thought was awesome. I never knew what was going to happen next because I didn't know what I needed to prepare myself for. Livy didn't know what she was getting herself into when she agreed to play Meyer's games and neither did I!
Another thing I absolutely loved was how some of the concepts of the story throw back to the original (non-Disney version) in a way that I know many people who know the story don't know exists. It was a pleasure for me to read about a modern take on it all, with a few twists along the way of course.
While this isn't my favorite story, I do think that I'll be recommending it. I'd love to go adventuring with Meyer someday–and maybe I will, when I read this book again.
4/5 stars