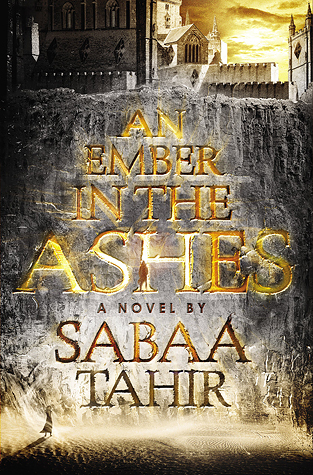 An Ember in the Ashes
An Ember in the Ashes #1
author : sabaa tahir
pages : [hardcover] 446
memorable quote : There are two kinds of guilt. The kind that's a burden and the kind that gives you purpose. Let your guilt be your fuel.
favorite character : elias
summary :
Laia is a slave.
Elias is a soldier.
Neither is free.
Under the Martial Empire, defiance is met with death. Those who do not vow their blood and bodies to the Emperor risk the execution of their loved ones and the destruction of all they hold dear.
It is in this brutal world, inspired by ancient Rome, that Laia lives with her grandparents and older brother. The family ekes out an existence in the Empire's impoverished backstreets. They do not challenge the Empire. They've seen what happens to those who do.
But when Laia's brother is arrested for treason, Laia is forced to make a decision. In exchange for help from rebels who promise to rescue her brother, she will risk her life to spy for them from within the Empire's greatest military academy.
There, Laia meets Elias, the school's finest soldier—and secretly, its most unwilling. Elias wants only to be free of the tyranny he's being trained to enforce. He and Laia will soon realize that their destinies are intertwined—and that their choices will change the fate of the Empire itself.
review :
Wow. There is so much going on in this book and it left me wanting (needing?) more.
First, I have to talk about this book summary. It was what interested me in the book, but it's a little inaccurate. Laia isn't a slave–not exactly. She's born 'free', still beneath the ruling class, and can do whatever she wants. As long as she doesn't step out of line, learn to read or write, or speak up for herself. Still, she isn't a slave as defined in this world. Her life changes when the Empire comes knocking and destroys her life and her family. I won't say more because I think it's better for you to read about the changes and struggle Laia goes through, but I loved seeing her find her strength.
Elias, I think I loved more. Maybe it was because I was so interested by the military life he led. He's been trained since the age of six to become one of the Empire's deadliest assassins. But after all of that rigorous training (including a stage where ten year olds are sent to live in the wild for four years?!) he still have a soft spot. The others call him weak, but I loved that about him. He still had a heart.
Though the book is told with each chapter alternating between Elias' and Laia's perspectives, there was never a chapter I wanted to skip over. The only frustrating thing was that it seemed like every chapter ended on a mini cliff hanger. So I'd rush to see what was going to happen to one character, only to have the other in peril by the time I had a chance to see what was going to happen to someone else!
I really, really loved this book and I'm definitely going to be recommending it. I can't say much more about it, for fear of spoiling what I think needs to be experienced. But Sabaa Tahir is an author to look out for.
5/5 stars