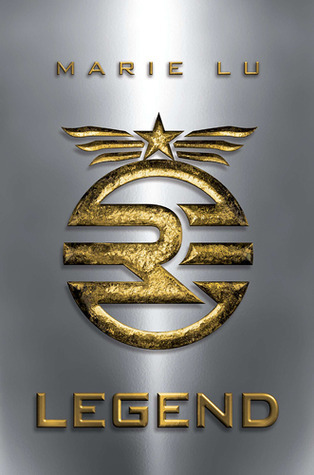 Legend
Legend #1
author : marie lu
pages : [hardcover] 305
memorable quote : Each day means a new twenty-four hours. Each day means everything's possible again.
favorite character : day
summary :
What was once the western United States is now home to the Republic, a nation perpetually at war with its neighbors. Born into an elite family in one of the Republic's wealthiest districts, fifteen-year-old June is a prodigy being groomed for success in the Republic's highest military circles. Born into the slums, fifteen-year-old Day is the country's most wanted criminal. But his motives may not be as malicious as they seem.
From very different worlds, June and Day have no reason to cross paths—until the day June's brother, Metias, is murdered and Day becomes the prime suspect. Caught in the ultimate game of cat and mouse, Day is in a race for his family's survival, while June seeks to avenge Metias's death. But in a shocking turn of events, the two uncover the truth of what has really brought them together, and the sinister lengths their country will go to keep its secrets.
review :
Legend. I've been hearing about it for years. I've even had the privilege of hearing Marie Lu speak at Book Con (twice!) before I even picked up one of her books. Possibly because by the time I heard about her trilogy, I was on dystopian overload and decided that I needed to give that genre a rest for a little while. Because it's been a long time since I've read a dystopian I've loved, and my friend was kind enough to let me borrow these books from her, I finally dove into the world of Legend. I wasn't immediately impressed.
The book alternates between Day, vigilante on the streets, and June, prodigy of the military nation they live in. What was awesome about Day's chapters were that they were written in gold ink, which I thought was pretty unique and fun. The text itself fit into their personalities. Day is fighting for freedom and individuality; June prefers the black text, what's expected, known, and follows the rules.
I think throughout the novel I began to look forward to Day's chapters, probably because they often ended on mini cliffhangers and I wanted to know what was happening with him. It wasn't that June ever truly bored me, but sometimes I wanted to push past her angst-y wondering and political problems to get to Day's more pressing (and life-threatening) issues. He's a fun character to read, but I never fully connected with him in Legend. I never understood why he needed to be on his own instead of joining the other rebels, why he wasn't helping his family more.
I will say that there are some parts of his story I found really predictable and others that were refreshingly new. I did love how some parts of the story that I was waiting to happen (that I can't discuss for fear of spoiling!) happened much sooner than I ever thought they would, so I had to wonder what could possibly happen next to complicate things enough to fill the novel.
I'm not sure if I'll recommend Legend. While parts of the story are interesting, there is nothing distinctively unique about this that wowed me, particularly because I don't think I connect with Lu's writing style.
Writing: 50%
Characters: 75%
Romance: 60%
Action: 98%
Plot: 70%
Overall:  70.6%
3/5 stars