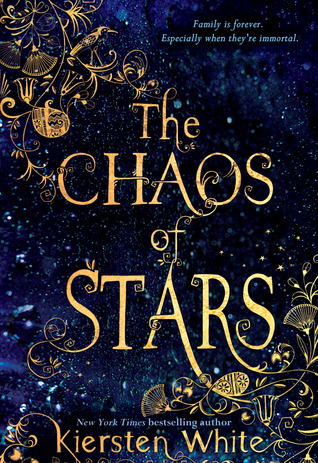 The Chaos of Stars
author : kiersten white
pages : [hardcover] 277
memorable quote : I do believe in fate and destiny, but I also believe we are only fated to do the things that we'd choose anyway.
favorite character : ry
summary :
Kiersten White, New York Times bestselling author of Paranormalcy, is back with The Chaos of Stars—an enchanting novel set in Egypt and San Diego that captures the magic of first love and the eternally complicated truth about family.
Isadora's family is seriously screwed up—which comes with the territory when you're the human daughter of the ancient Egyptian gods Isis and Osiris. Isadora is tired of living with crazy relatives who think she's only worthy of a passing glance—so when she gets the chance to move to California with her brother, she jumps on it. But her new life comes with plenty of its own dramatic—and dangerous—complications . . . and Isadora quickly learns there's no such thing as a clean break from family.
Blending Ally Carter's humor and the romance of Cynthia Hand's Unearthly, The Chaos of Stars takes readers on an unforgettable journey halfway across the world and back, and proves there's no place like home.
review :
If there's anything I can't resist it's a book that says it references mythology. The Chaos of Stars tells the tale of children of gods, but not one like those seen out there in the industry today. These kids have no powers, no destiny, no immortality. Imagine how it would be, a human living among the immortal and powerful gods. That's Isadora's life and she's tired of it. As soon as she found out that her parents weren't willing to save her, allowing her to not only die a mortal death but to decorate her tomb, she tries to cut herself off from her family.
Unfortunately for her, the gods don't want her to get away so easily. Her mother remains controlling and something dark, evil, and able to kill a god is lurking in Isadora's dreams.
This story was fairly simple. I knew going in that it was a standalone, which was kind of shocking to me because most books today have a million installments and the plot here moves slow. I mean, slow. So much happens in the last twenty pages of the book because of that molasses buildup. In the beginning, I enjoyed it. I wanted to get to know Isadora's home life and what the Egyptian gods were like in their 'modern' forms, in relation to her. Learning more about Egyptian mythology (with snarky quips from Isadora about how these myths lend to the modern day) was a lot of fun. But as soon as she got to America, I didn't see the need for anything but speed.
Despite how much the mythology and the way gods were portrayed captured my interest, the book was painfully predictable. I'm not entirely sure if any of it was really supposed to be a plot twist. Well, there was an attempt for a red herring, which didn't quite work, and another 'twist' about her relationship with one of her friends that Isadora found out about oh, thirty pages from the end, and I called from the very moment she met this kid.
Still, I enjoy Kiersten White's writing. I loved her Paranormalcy trilogy and while this definitely wasn't a favorite for me, I'll read more by her. Next time, though, I'll be checking it out of the library.
Mythology: 100%
Writing: 70%
Characters: 80%
Action: 65%
Plot: 70%
Overall: 77%
3/5 stars