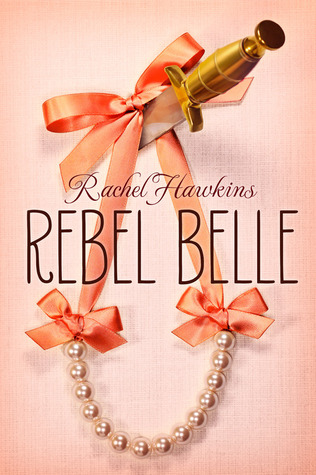 Rebel Belle
Rebel Belle #1
Pages : [hardcover] 345
memorable quote : I picked up the nearest weapon I could lay my hands on: a stapler. I lifted it, going for "menacing." I admit it lacked a certain elegance, but hey. It was worth a shot.
favorite character : harper
summary :
Harper Price, peerless Southern belle, was born ready for a Homecoming tiara. But after a strange run-in at the dance imbues her with incredible abilities, Harper's destiny takes a turn for the seriously weird. She becomes a Paladin, one of an ancient line of guardians with agility, super strength and lethal fighting instincts.
Just when life can't get any more disastrously crazy, Harper finds out who she's charged to protect: David Stark, school reporter, subject of a mysterious prophecy and possibly Harper's least favorite person. But things get complicated when Harper starts falling for him—and discovers that David's own fate could very well be to destroy Earth.
With snappy banter, cotillion dresses, non-stop action and a touch of magic, this new young adult series from bestseller Rachel Hawkins is going to make y'all beg for more.
review :
I have to admit that this book completely surprised me and blew me away. Ten pages in, I was ready to give up. Fifteen in and I just couldn't put it down! Rebel Belle is like Legally Blonde meets Star Wars meets Greek mythology. If that can't convince you to try this then I don't know what would!
Rachel Hawkins is an author I've been meaning to try out for a while and after reading this I think I've fallen in love with her writing style. How an author writes is a huge point in how much I'm going to enjoy their books and I have a feeling I'm going to gobble up everything she's written up to this point, immediately.
This book contains some of the best characters I've read about in a while. I didn't care for Harper and David's hate relationship at the beginning (seems to be based on . . nothing?) but they were interesting as individuals. Originally, I disliked Harper. She wasn't my kind of girl. But then she kind of turned badass. She's extremely loyal to her friends, wants to do well by her parents, and basically tries to be nice to everyone even when she knows that they're being rude to her face. I was misjudging her, the same way most of the people in the book seem to get the wrong idea about her. David was an eccentric nerd, as I'd expected, but (surprise!) he had depth to him and that was awesome.
And the plot. Surprisingly unpredictable, even when it . . . is. Hear me out: The characters themselves recognize where the big showdown/finale is going to happen. Harper and the other rich, frivolously Southern girls in school are preparing for Cotillion both before and after Harper gets her Paladin powers. And everyone recognizes that the bad guys are big fans of obnoxious gestures of power so they know they're going to save their worst until Cotillion night. It's the kind of build-up you can always see coming in books and these characters actually acknowledged it themselves and appropriately prepared for the moment and still managed to make it exciting and action-packed.
I would recommend this book to anyone. If you start reading it and don't think it's for you, don't worry–just keep on reading and soon you won't be able to put it down until you're finished! And then you'll immediately reach for book two, like I did.
5/5 stars
World-Building: 85%
Writing: 97%
Action: 100%
Characters: 95%
Plot: 97%
Overall: 94.8%