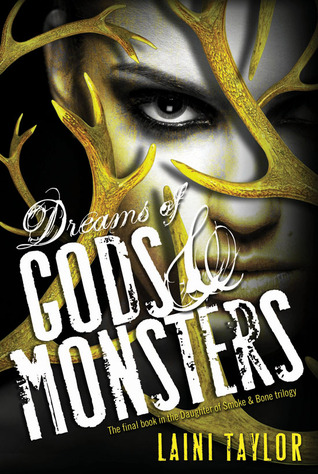 Dreams of Gods and Monsters
Daughter of Smoke and Bone #3
author : laini taylor
pages : [hardcover] 613
memorable quote : Once upon a time,an angel and a devil pressed their hands to their hearts
and started the apocalypse.
favorite characters : karou & akiva
summary :
By way of a staggering deception, Karou has taken control of the chimaera rebellion and is intent on steering its course away from dead-end vengeance. The future rests on her, if there can even be a future for the chimaera in war-ravaged Eretz.
Common enemy, common cause.
When Jael's brutal seraph army trespasses into the human world, the unthinkable becomes essential, and Karou and Akiva must ally their enemy armies against the threat. It is a twisted version of their long-ago dream, and they begin to hope that it might forge a way forward for their people.
And, perhaps, for themselves. Toward a new way of living, and maybe even love.
But there are bigger threats than Jael in the offing. A vicious queen is hunting Akiva, and, in the skies of Eretz … something is happening. Massive stains are spreading like bruises from horizon to horizon; the great winged stormhunters are gathering as if summoned, ceaselessly circling, and a deep sense of wrong pervades the world.
What power can bruise the sky?
From the streets of Rome to the caves of the Kirin and beyond, humans, chimaera and seraphim will fight, strive, love, and die in an epic theater that transcends good and evil, right and wrong, friend and enemy.
At the very barriers of space and time, what do gods and monsters dream of? And does anything else matter?
review :
I finished this book a few weeks ago but I've had to sit on the review. That's because for the past few years whenever someone asks me what my favorite book is (always an impossible question) I end up answering "Daughter of Smoke and Bone". I ordered this book as soon as it was released, was dying to read it–and still couldn't force myself to sit down with it because that meant the end of a trilogy I've been holding close to my heart. Something that influences my own writing, as well as showing me the kind of book that I'd die to work with as an editor. Eventually, lovingly, and fearful that I'd be spoiled (something I would never, ever recover from) I opened Dreams of Gods and Monsters.
It was perfect and yet nothing like I'd expected. Laini Taylor is always fantastic about crafting a story where the reader is certain they knew what will happen and then adding an extra twist, whether it be a setback or an entirely new villain. The books, for all their fantasy and chaos, are realistic in that most of these characters are not entirely good or evil, there is no single 'bad guy', and a lot of these people and chimera and angels just want the chance to live. This epic finale to a war that has raged for thousands of years will leave you crying.
I would have liked to have seen more of Karou and Akiva together . . . but, yes, they were in the middle of a war, and unlike most YA trilogies where protagonists find love in the midst of war, this angel and chimera actually pay more attention to saving thousands of lives than focusing on their relationship. But a few shared glances across a fire or secret invisible meetings can go a long way and get my heart beating a little faster over my favorite couple, ever. They're just so sweet with each other, despite the past and occasional fighting.
There were some new characters, as well as old ones who were given more pages, that I came to adore. Like a new romantic pairing that was almost as heart-wrenchingly wonderful and sad and glorious as Karou and Akiva (possibly just as great and beautiful for me to love forever). Add on the characters I absolutely love to hate and this was a showdown that had me on the edge of my seat. I think I read through this in two days, hundreds of pages at a time because once I started I had to know what was going to happen. Had to know that everything would be alright.
The ending was perfect. Nothing like what I'd hoped for and yet it lends itself perfectly to me picturing how things might be for that universe a year or five or ten in the future, where the surviving characters might be and what new problems might arise. There was a little openness to the ending that had me hopeful that more would be announced, but I think that this is the end. As painful as that thought is, I'm okay with that. I can love and reread Karou and Akiva and all the rest. Whatever Laini Taylor reads next, I'm reading it. This author sets a bar that no other has passed for me.
5/5 stars