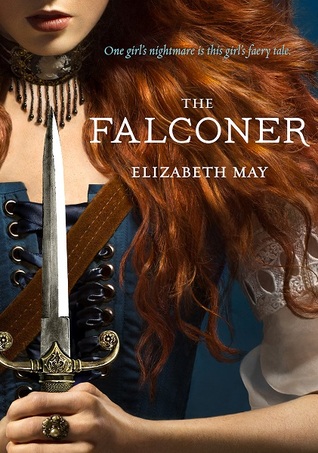 The Falconer
The Falconer #1
author : elizabeth may
pages : [hardcover] 378
memorable quote : "You know my mother thinks the waltz is indecent."
"Your mother would find the sight of a chair leg indecent."
favorite character : derrick
summary :
One girl's nightmare is this girl's faery tale
She's a stunner.
Edinburgh, 1844. Eighteen-year-old Lady Aileana Kameron, the only daughter of the Marquess of Douglas, has everything a girl could dream of: brains, charm, wealth, a title—and drop-dead beauty.
She's a liar.
But Aileana only looks the part of an aristocratic young lady. she's leading a double life: She has a rare ability to sense the sìthíchean—the faery race obsessed with slaughtering humans—and, with the aid of a mysterious mentor, has spent the year since her mother died learning how to kill them.
She's a murderer.
Now Aileana is dedicated to slaying the fae before they take innocent lives. With her knack for inventing ingenious tools and weapons—from flying machines to detonators to lightning pistols—ruthless Aileana has one goal: Destroy the faery who destroyed her mother.
She's a Falconer.
The last in a line of female warriors born with a gift for hunting and killing the fae, Aileana is the sole hope of preventing a powerful faery population from massacring all of humanity. Suddenly, her quest is a lot more complicated. She still longs to avenge her mother's murder—but she'll have to save the world first.
The first volume of a trilogy from an exciting new voice in young adult fantasy, this electrifying thriller combines romance and action, steampunk technology and Scottish lore in a deliciously addictive read.
review :
This book was so interesting and a take on fairies that I've never seen before!
Aileana is a Falconer, though she doesn't know this until about halfway through the book so it's a little surprising that's revealed in the synopsis. And there are parts of the job that haven't exactly happened to her yet so I'm assuming they'll occur in the second book, hopefully, because it sounds like they'll be pretty awesome if these events do happen.
Anyway, it's her job to kill as many fairies as possible because they love to kill and torture humans–for the most part. Her mentor is an exceptionally attractive and dangerous fairy. She even has a little pixie living in her closet who helps to mend her clothes in exchange for honey–and is such a good friend to her that I couldn't help but love him. Despite evidence that fairies technically could be nice, every other one is presented as lethal and Aileana can sense when they're nearby so she can kill them.
And she's really good at it, despite the fact that it's ruining her reputation. It was painful to see how society's view of her went down every time she needed to make her excuses to go off and save lives. No one would understand what she's doing, of course, and the era in which it was sent was so restrictive on how women should behave that there's no way Aileana could have preserved her reputation as well as kept the city safe.
I love how the action fit in with the time period–attacks at a ball, illicit rendezvous after dark, courting someone so you'll seem less suspicious running around killing fairies. It was so fun to read on and see what was going to happen next because I honestly couldn't predict where this book was going. And that cliffhanger? Totally and completely unfair!
I can't wait to read book two when it eventually comes out!
4/5 stars