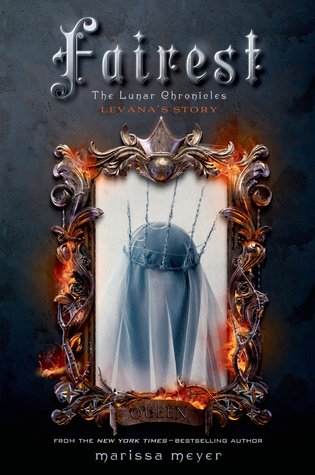 Fairest
The Lunar Chronicles 3.5
author : marissa meyer
pages : [hardcover] 220
memorable quote : "Maybe the princess could save herself."
"That sounds like a pretty good story too."
favorite character : evret
summary :
In this stunning bridge book between Cress and Winter in the bestselling Lunar Chronicles, Queen Levana's story is finally told.
Mirror, mirror on the wall,
Who is the fairest of them all?
Fans of the Lunar Chronicles know Queen Levana as a ruler who uses her "glamour" to gain power. But long before she crossed paths with Cinder, Scarlet, and Cress, Levana lived a very different story – a story that has never been told . . . until now.
Marissa Meyer spins yet another unforgettable tale about love and war, deceit and death. This extraordinary book includes full-color art and an excerpt from Winter, the next book in the Lunar Chronicles series.
review :
Fairest is an interesting installment in The Lunar Chronicles because if you've been following the books, you sort of already know what's going to happen. What makes this prequel extremely interesting is how seriously psychotic Levana is and grows to be throughout the course of the book. It follows a good chunk of her life, starting when she's fifteen years old, and flashes back a few times to formative moments in her childhood. And while you would feel bad for any child forced to grow up in such a dangerous, restrictive, and unloving environment, Levana's response to that leads her to murdering thousands of people with the end goal of taking over planet Earth.
If you haven't read The Lunar Chronicles, please do read it before getting to this book. It'll spoil a few surprises you have along the way for you, even though this book is technically first in the sequence. Really it's a character study and not much in the way of plot. Levana comes to choices that you know she's going to make based on how book one begins (and on the twists therein).
Still, this made me super excited for Winter because now I know more about how the two are related and I can't wait to see what happens next. Winter is the cutest little girl and I fell in love with her so nothing bad better happen to her. Except whenever I begin to like one of the characters, something terrible ALWAYS has to tear them away from me.
Levana . . . well. I thought maybe this book was going to make me sympathetic toward her and was a little afraid of that because she's one of those villains that I love to hate. But this only made me understand her motivations a little better and the special brand of evil she is. I knew she was manipulative, I knew she wanted to take over the world–but watching her destroy the lives of the people she supposedly loves makes it easy to see how much worse it will be for those she hates.
While this book is short and doesn't contribute much to the overall series, I'd recommend it to fans. It's a really interesting character study that will have me looking even more suspiciously at Levana throughout the next book. This evil queen has got to go!