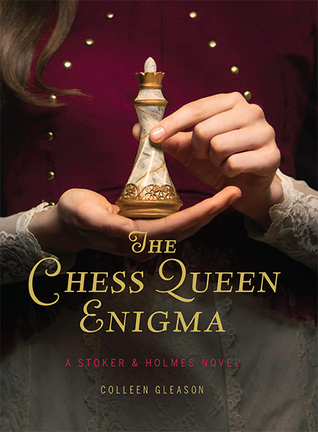 The Chess Queen Enigma
Stoker & Holmes #3
Book 1: The Clockwork Scarab
Book 2: The Spiritglass Charade
expected publication: october 6th
author : colleen gleason
pages : [hardcover] 360
favorite characters : . . . all of them?
summary :
Evaline Stoker & Mina Holmes are back for a third adventure. They have to locate a missing chess queen before their nemesis, The Ankh, gets there first!
Evaline Stoker and Mina Holmes have reluctantly agreed to act as social chaperones and undercover bodyguards for Princess Lurelia of Betrovia, who has arrived in London to deliver a letter that details the secret location of an ancient chess queen that's been missing for centuries. But when the letter—which will heal a centuries-old rift between England and the Betrovians—is stolen out from under Evaline and Mina's watchful eyes, the two girls are forced into a high-stakes race to ensure they find the chess queen before anyone else does. The Stoker and Holmes series is as culturally popular and compulsively readable as the Sherlock Holmes stories and Dracula were in the Victorian era.
review :
I LOVE this series so much and think it's a shame that I know no one who reads it. Stoker & Holmes are two fierce ladies who kick ass and take names, all in the constricting fashions of the Victorian era. I honestly can't decide which of them I love more because Mina is entirely hopeless and adorable in social situations, Evaline can't stop eating and, y'know, staking vampires, and then there are a host of supporting characters that are just . . charming and captivating and also very frustrating. Particularly regarding the gentlemen I can't decide should be deserving of these two.
It's an interesting clash as always, with an investigation occurring while there's also the threat of vampires. Those two worlds are steadily beginning to merge into the bigger picture that has been hinted at throughout the series. So, what does that mean? It means that I'm craving the next book already when there's NO RELEASE DATE, no name for it, nothing. How am I supposed to survive on an ending like this one? What?!?!
Maybe I'll talk about something that makes me a little less frustrated and incoherent. Mina and Evaline are developing so nicely, not only in their relationship but as individuals. I love how they continue to endlessly frustrate one another but remain a team, steadfast and now easily able to predict what one another will do. It's fascinating to read and I can't wait to see how things will be the next time we see them. Hopefully spending more time with one another outside of investigations and life or death situations!
I can't recommend this series enough, to be honest. If you read it, let me know! I need to discuss these books with someone.
5/5 stars