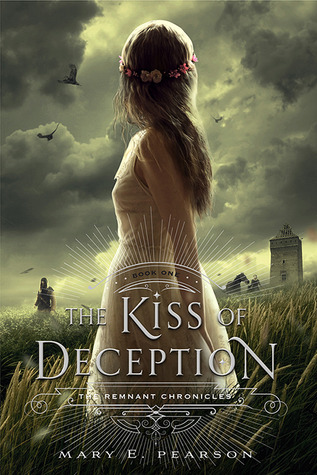 The Kiss of Deception
The Remnant Chronicles #1
author : mary e. pearson
pages : [paperback] 512
memorable quote : It can take years to mold a dream. It takes only a fraction of a second for it to be shattered.
favorite character : pauline
summary :
In a society steeped in tradition, Princess Lia's life follows a preordained course. As First Daughter, she is expected to have the revered gift of sight–but she doesn't–and she knows her parents are perpetrating a sham when they arrange her marriage to secure an alliance with a neighboring kingdom–to a prince she has never met.
On the morning of her wedding, Lia flees to a distant village. She settles into a new life, hopeful when two mysterious and handsome strangers arrive–and unaware that one is the jilted prince and the other an assassin sent to kill her. Deception abounds, and Lia finds herself on the brink of unlocking perilous secrets–even as she finds herself falling in love.
The Kiss of Deception is the first book in Mary E. Pearson's Remnant Chronicles.
review :
I wanted to read The Kiss of Deception even before I realized that I loved The Adoration of Jenna Fox, which is also written by Mary E. Pearson. It's been a while since I've read that book so I was hoping that her writing would live up to what expectations I could muster from my vague memories of really enjoying that read (and prompting me to crave rereading it and finishing the trilogy). Unfortunately, while The Kiss of Deception was extremely well-written, I didn't care for the try-hard love triangle in it that overtook most of the plot.
From page one, I was hooked. Lia is her kingdom's First Daughter–a princess valuable in marriage because she's supposed to have "the gift". This gift is ambiguous, for the most part, and seems to be some well to tell the future. I'm not sure if it's only her future or the kingdom's. In either case, Lia doesn't have this gift but she's being married off to a neighboring kingdom anyway to solidify an alliance between the two. But she decides that she wants to control her own future. This is what made me love Lia. She's so strong, and stubborn, but over all of that she'd sacrifice all of her hopes and dreams for a chance that the people she loves will be safe and happy. Some of her decisions appear to be selfish but they're anything but that.
Enter the love triangle and things got tricky for me. It's obvious who she's going to interact with and the bad boy/perfect prince angle going in this tumultuous group of relationships. There's a twist in here, though, that I didn't catch onto and confused me somuch before I realized what had happened. And it was brilliant, honestly. I'd recommend someone pick up the book for that alone–and obviously, I won't say anything about what it was, for fear of spoiling people.
Still, after that, the book seemed very different from then on. Lia is still developing as a characters, as young woman and princess, and I was interested to see where she'd end up at the conclusion of the novel. I did like the place where it ended and I know book two is already out now so I wouldn't need to wait ages to read it, but . . . I'm not certain that I'll bother picking it up. While there were pieces of this book that I adored, the love triangle and the amount of time spent concentrating on it was annoying enough to make me think that I'll just assume where the story might end from here. If I see great reviews . . I might be convinced otherwise.
I do think that this is a fantasy novel that a lot of people will love. The world-building and Lia's character are fantastic and I'm assuming more people will love, well, the love in this one.
4/5 stars