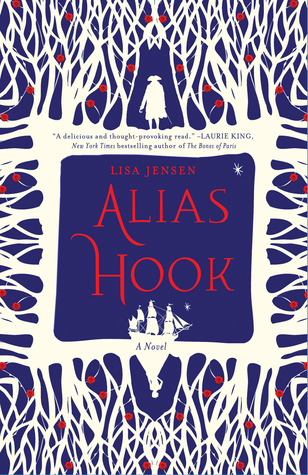 Alias Hook
author : lisa jensen
pages : [paperback] 368
memorable quote : Children must find not only their happiest fantasies, but their most violent and terrible nightmares. They must face their demons and laugh at them. That is the key to growing up.
favorite character : hook
summary :
"Every child knows how the story ends. The wicked pirate captain is flung overboard, caught in the jaws of the monster crocodile who drags him down to a watery grave. But it was not yet my time to die. It's my fate to be trapped here forever, in a nightmare of childhood fancy, with that infernal, eternal boy."
Meet Captain James Benjamin Hook, a witty, educated Restoration-era privateer cursed to play villain to a pack of malicious little boys in a pointless war that never ends. But everything changes when Stella Parrish, a forbidden grown woman, dreams her way to the Neverland in defiance of Pan's rules. From the glamour of the Fairy Revels, to the secret ceremonies of the First Tribes, to the mysterious underwater temple beneath the Mermaid Lagoon, the magical forces of the Neverland open up for Stella as they never have for Hook. And in the pirate captain himself, she begins to see someone far more complex than the storybook villain.
With Stella's knowledge of folk and fairy tales, she might be Hook's last chance for redemption and release if they can break his curse before Pan and his warrior boys hunt her down and drag Hook back to their neverending game. Alias Hook by Lisa Jensen is a beautifully and romantically written adult fairy tale.
review :
 Fairy tale retellings are my weakness; every time I spot one or hear about a new one, I need to get my hands on it. Peter Pan is one of my favorite stories so when I first learned about Alias Hook I ordered it for myself.
As soon as I opened Alias Hook and read the prologue I knew that I was going to be hooked (ha, ha) in at least one way because the prose was gorgeous. I've never read anything by Lisa Jensen before but now I'm incredibly tempted to follow her (I saw that she has another retelling coming but it isn't until 2017. How am I supposed to wait that long???). Hook is rather old-fashioned as a character, having lived for centuries, and I think Jensen did a fabulous job of capturing his old-timey prose combined with a slight tinge of modernism that Hook gains from the new pirates coming to fill his ship every time Peter Pan slaughters his crew.
That's all that Hook knows, fighting Pan, and the boy always wins. Hook can't count the number of crew members he's lost since he was cursed into Neverland. Trapped, he's certain his only escape will come when Pan is killed, but after centuries of Lost Boys returning as pirates to populate his ship, Hook is losing hope. He's grown cruel, mad, and everything sinister is twisting and thriving inside of him. In the real world, Hook was not always a gentleman, but Neverland takes everything that is inside of a person and makes it that much stronger. Throw in a grown woman, when Pan doesn't allow such Mothers into Neverland, and Hook has a real choice to make: His love or his love of the fight?
Although some portions of Alias Hook are predictable, that's only to be expected when we already know the outcome of the original story. What I liked most were the supplemental facts and smaller plotlines scattered throughout the novel. Hook's past, why Stella was drawn to Neverland, the role of the mysterious fairies–all of these things and more captivated me and brought a darker, more adult tinge to this fairy tale world of Neverland. I'm sure that everyone who can appreciate a good adult novel will love this retelling that really takes something purportedly aimed at children and shapes it into something scarily recognizable.
Honestly, this book was extremely easy to read and impossible to put down. I haven't had a good book draw me in like this for a while. When I was reading for bed, I didn't know whether to hope or dread that I'd dream about Neverland, because this is one version of that place I wouldn't want to be pulled into.
I'll be recommending this book to everyone. If you like fairy tale retellings, adventure, or romance, you'll love Alias Hook.
5/5 stars