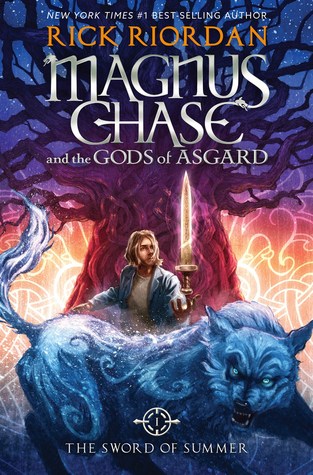 The Sword of Summer
Magus Chase and the Gods of Asgard #1
author : rick riordan
pages : [hardcover] 528
favorite characters : sam & magnus
memorable quote : "I hate this plan," I said. "Let's do it."
summary :
Magnus Chase has always been a troubled kid. Since his mother's mysterious death, he's lived alone on the streets of Boston, surviving by his wits, keeping one step ahead of the police and the truant officers.
One day, he's tracked down by a man he's never met—a man his mother claimed was dangerous. The man tells him an impossible secret: Magnus is the son of a Norse god.
The Viking myths are true. The gods of Asgard are preparing for war. Trolls, giants and worse monsters are stirring for doomsday. To prevent Ragnarok, Magnus must search the Nine Worlds for a weapon that has been lost for thousands of years.
When an attack by fire giants forces him to choose between his own safety and the lives of hundreds of innocents, Magnus makes a fatal decision.
Sometimes, the only way to start a new life is to die . . .
review :
On the day it was released, I picked up The Sword of Summer and started reading it because I've been waiting so long for this new series by Rick Riordan. I was pretty worried; I tried the Kane Chronicles by him and didn't love it as much as I did his Percy Jackson series. But, honestly, Rick really blew all of my worries away with this awesome first book to what I'm sure will be an incredible series–and incredibly frustrating because of the long wait I'm going to have between books.
Magnus Chase has never known his father but that has never bothered him because he was incredibly close to his mother . . until she was attacked by freakishly huge wolves, killed, and he was left to live on the streets for two years. Once his uncle finds him–suspiciously keen to keep him safe after he's lived mere blocks from Magnus' homeless hot spots–everything changes for Magnus. His life as he knows it is ended, literally. You find out on page one that he ends up dead.
Except a lot can happen after you die, apparently, and I loved the adventure that Magnus takes us on. Already I can see how this series is going to be different from the ever famous Percy Jackson; there's no one certain threat here. Magnus is trying to prevent the end of the world, yes, but there are two-faced gods, monsters, supposed allies, family members–all potentially working against him. All with their own motives. All with particularly witty lines and phrases that had me laughing out loud.
Other than the changing villains, I loved the supporting characters. Riordan is one of the few authors I've read a lot of that I know puts a lot of diversity into his books. And I don't just mean including elves and dwarves as characters. It's refreshingly realistic, to see characters of all shapes, sizes, abilities, and backgrounds, settled into this fantastical concept.
If you've been a fan of Rick Riordan, you'll notice little nods to his other books in this novel which I LOVED. In no way do you need to read anything else before picking up The Sword of Summer. But, come on. Once you love this book, you'll be itching to read more of Rick's work.
5/5 stars