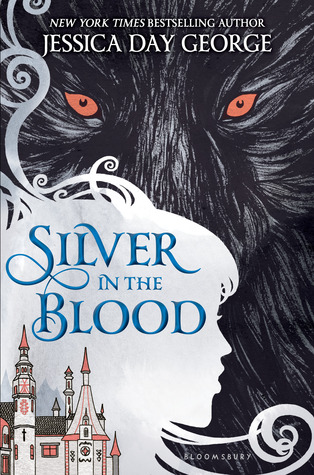 Silver in the Blood
Silver in the Blood #1
author : jessica day george
pages : [hardcover] 358
favorite character : lou
summary :
Society girls from New York City circa 1890, Dacia and Lou never desired to know more about their lineage, instead preferring to gossip about the mysterious Romanian family that they barely knew. But upon turning seventeen, the girls must return to their homeland to meet their relatives, find proper husbands, and—most terrifyingly—learn the deep family secrets of The Claw, The Wing, and The Smoke. The Florescus, after all, are shape-shifters, and it is time for Dacia and Lou to fulfill the prophecy that demands their acceptance of this fate… or fight against this cruel inheritance with all their might.
With a gorgeous Romanian setting, stunning Parisian gowns, and dark brooding young men, readers will be swept up by this epic adventure of two girls in a battle for their lives.
review :
I first heard about Silver in the Blood because I've read some of Jessica Day George's work before. She tends to publish works influenced by fairy tales, which are always my absolute favorite stories to read. Coupled with this gorgeous, intriguing cover, I had to pick this up when I finally spotted it at the library.
Silver in the Blood is nothing like I anticipated. Although it has a slow pace, it has an interesting setting, premise, and characters. Leading ladies Dacia and Lou are polar opposites; Dacia is outspoken and wild whereas Lou is quiet and prone to panic in social situations. From the very beginning, I related and loved Lou. I loved how her character developed and rooted for her from the start. I do think that her personal journey went on a little quickly, though of course there are mysterious forces at work in this book so I'm assuming that 'magic' aspect might have had an influence on her personality. Because that was never expressly started, I had a little issue with it.
I don't think that I would have enjoyed this plot so much if it hadn't been for the setting. Not only was it fantastic to read a book set in Romania, because there aren't many of those on my shelves, but both ladies are well-bred women at the end of the 1800s and have several social stigmas to fight against. I love how neither of them differed to men or once considered her limitations (apart from some complaints about how their dress limited their movement!). Lou and Dacia need to keep their reputations pristine in society, of course, but they find ways around that and, when it comes to their true happiness, neither seems to care what 'society' thinks of them.
The magical aspects of this book are fantastic; I won't go into it in detail because it takes practically half of the book to get to the great reveal to the girls about what their family is. And I'm thankful I didn't read the book summary before I picked it up, or else it would have all been spoiled for me before I'd be able to read and use context clues to figure the mystery out for myself. It's utterly disappointing that they'd have so much detail on the summary when they know readers won't get to it for hundreds of pages!
There were many tiny details that frustrated me because I wanted further explanation; I didn't know until I finished this book that it was obviously setting itself up for a sequel. While I do think that an entire, faster-paced story could have been told about this world and these characters, I'll be picking up the sequel. Now that the basics of the story have been established, I'm hoping that the plot will really pick up speed!
3.5 stars