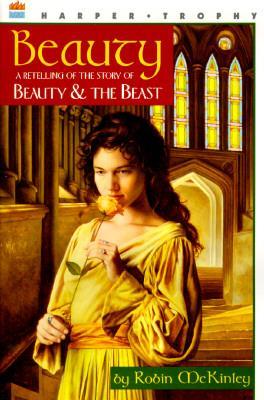 Beauty
Folktales #1
author : robin mckinley
pages : [paperback] 256
memorable quote : As I have said, you have no reason to trust me, and an excellent reason not to.
favorite character : the beast
summary :
A strange imprisonment…
Beauty has never liked her nickname. She is thin and awkward; it is her two sisters who are the beautiful ones. But what she lacks in looks, she can perhaps make up for in courage.
When her father comes home with the tale of an enchanted castle in the forest and the terrible promise he had to make to the Beast who lives there, Beauty knows she must go to the castle, a prisoner of her own free will. Her father protests that he will not let her go, but she answers, "Cannot a Beast be tamed?"
Robin McKinley's beloved telling illuminates the unusual love story of a most unlikely couple, Beauty and the Beast.
review :
Retold fairy tales are my favorite. These days, there are a plethora of them, which delights me to no end. Unfortunately, that means that I've read many variations of the more popular fairy tales, and Beauty and the Beast is a story often dealt with, over and over again. While I don't mind knowing that some aspects of the fairy tale are obviously going to be predictable, I do expect there to be some degree of originality in the story.
Robin McKinley's Beauty is certainly . . . lacking that. We get nearly 70 pages into the 250 page book before the Beast is even mentioned. Then, when the relationship between Beauty and the Beast is actually kind of cute and interesting, it's rushed over because of course we already know what's going to happen so we don't need all of the details. But I do! I want all of the cute moments when the two of them are learning to trust one another–or when Beauty is finding more about magical, because I did think that the complex layers of magic in the castle was fascinating. What wasn't fascinating was spending so much time explaining how Beauty's family came to the point where her father would end up in the woods to offend the Beast.
It was utterly disappointing. Believe me, the writing was great; it put me in the exact mood of a fairy tale and it was gorgeous. But superfluous, when it came to lingering over the setting of Beauty's home, before the family uproots and moves elsewhere, to a new setting that needs more pages of detail.
I also don't understand why authors find it necessary to introduce characters who spend a lot of their time going on and on about how ugly they are and how no one will ever like their looks . . . only to end up with everyone assuring them that they're gorgeous, princess-ly, and all. Obviously, I don't mind girls embracing how they look and owning it, but that is not what happens here. Unearthly beauty is definitely not always necessary and the plot (and the seemingly ironically named Beauty) would have been fine without that addition.
If you're a fan of fairy tales, or Beauty and the Beast, or good novels, I'd say you can skip over this short rendition and find another one which is more unique and less frustrating.
2/5 stars