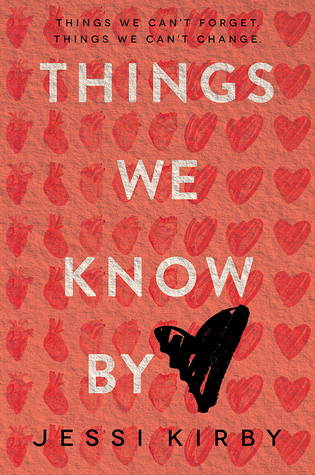 Things We Know by Heart
author : jessi kirby
pages : [hardcover] 304
publication date : april 21, 2015
summary :
When Quinn Sullivan meets the recipient of her boyfriend's donated heart, the two form an unexpected connection.
After Quinn loses her boyfriend, Trent, in an accident their junior year, she reaches out to the recipients of his donated organs in hopes of picking up the pieces of her now-unrecognizable life. She hears back from some of them, but the person who received Trent's heart has remained silent. The essence of a person, she has always believed, is in the heart. If she finds Trent's, then maybe she can have peace once and for all.
Risking everything in order to finally lay her memories to rest, Quinn goes outside the system to track down nineteen-year-old Colton Thomas—a guy whose life has been forever changed by this priceless gift. But what starts as an accidental run-in quickly develops into more, sparking an undeniable attraction. She doesn't want to give in to it—especially since he has no idea how they're connected—but their time together has made Quinn feel alive again. No matter how hard she's falling for Colton, each beat of his heart reminds her of all she's lost…and all that remains at stake.
review :
I'm not sure of how I feel about this book, to be honest. There were some parts of it that I truly loved and wanted more of. I wanted to learn more about Quinn's relationship with her family, particularly her father and her sister because they seemed like interesting characters who could have been used much more than they were. I wanted more than the focus on her and Colton, mostly because I knew that relationship would eventually blow up because of all of the secrets that Quinn was keeping from Colton.
Of course, some portions of the story were predictable, and I really didn't mind that. I just wish that some of it could have been handled differently. Not necessarily by changing the plot points or anything serious like that. Really, I just feel like most of it was too rushed, and even though I did get emotional at a few points, if it'd been slowed down I feel like I would have been much more of a mess. Not that I want to be emotionally damaged by a book, you know, but sometimes you can really appreciate something that tangles up your emotions and spits you back out again in the end.
I think that's another thing that was off for me, too–the ending. I wanted to know what was going to happen next because I feel like some of that could have been more interesting than some of the buildup to that conclusion. I can't say much without spoiling anything, but I know that there were still problems and issues that could have been explained or fleshed out that weren't given the chance to come to the heart of the novel . . . see what I did there?
I feel like this book is interesting and it certainly kept me reading, even though it isn't a favorite. I don't know if I'll recommend it to my friends, but I know there are people out there who'll love it more than I did. Maybe with all of their heart. Last heart joke, I swear.
3/5 stars