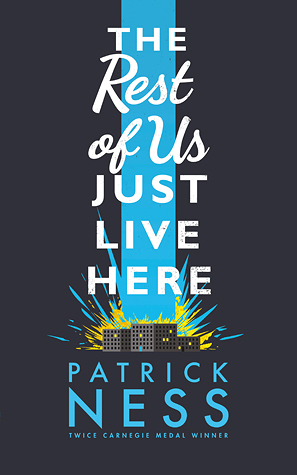 The Rest of Us Just Live Here
author : patrick ness
pages : [hardcover] 352
memorable quote : I hope you get to choose your family and I hope it means as much to you as mine does to me.
favorite character : jared
summary :
What if you aren't the Chosen One?
The one who's supposed to fight the zombies, or the soul-eating ghosts, or whatever the heck this new thing is, with the blue lights and the death?
What if you're like Mikey? Who just wants to graduate and go to prom and maybe finally work up the courage to ask Henna out before someone goes and blows up the high school. Again.
Because sometimes there are problems bigger than this week's end of the world, and sometimes you just have to find the extraordinary in your ordinary life.
Even if your best friend is worshiped by mountain lions.
Award-winning writer Patrick Ness's bold and irreverent novel powerfully reminds us that there are many different types of remarkable.
review :
I love, love, love everything Patrick Ness writes and The Rest of Us Just Live Here is one of my new favorite books.
Ness takes a concept that I've vaguely thought about but never truly considered until this novel–what if you aren't the chosen one, but one of the extras in the background? Not the person destined to save the world but the one who might get into a car accident because someone else is realizing their destiny. There are all of these people out there who just want normalcy in their lives while others are battling for the fate of the world. This book was so well-written on top of the fun concept and I know I'll be reading it over and over again.
Ness' characters are awesome. My favorite had to be Jared. Not just because he was born to be a cat-whisperer. He was so kind to all of his friends–tough when he needed to be, but it was always with their best interests in mind. I loved reading about him and wanted the best for him because he definitely deserved to be happy!
Main character Mickey leads a complicated life even if he is just a normal guy. He suffers from OCD and sometimes gets caught in loops he just can't break himself out of. The idea of it, to me, is completely terrifying. He always knows that he should stop and yet isn't able to force himself to do so. That loss of control eats away at him and helps to shape the rest of his personality. Not only is he not the savior, he also feels like he's the least wanted in his friend group. While that's rough, I also kind of liked that Mickey had to deal with that because I know it'll be so relatable. Everyone, at some point, doubts the people surrounding them. Mickey more than most. I think he'll be able to help readers who are lonely and unsure about themselves.
I'm going to recommend this book to everyone. Not only were the characters amazing, the plot was so interesting. It was fun to piece together Mickey's story and then, layered beneath that, the overall danger posed to the world as someone's 'chosen one' prophecy is being fulfilled. The chapter titles are particularly funny because they each describe what's happening to these people involved with a prophecy, all while Mickey's living out his life as best he can.
If you haven't thought of reading this book yet–you HAVE to. I'm sure this will be one of my all-time favorites.
5/5 stars