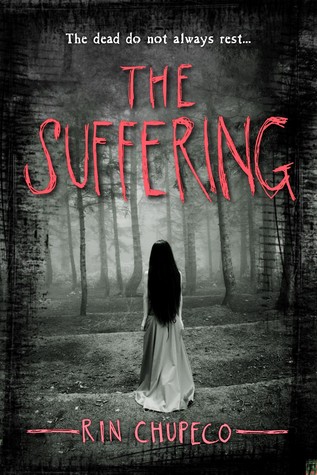 The Suffering
The Girl from the Well #2
author : rin chupeco
pages : [paperback] 272
memorable quote : Someone nobler than me might have given Okiku the final peace she deserves.
favorite character : okiku
summary :
Over the last year I've gone against faceless women, disfigured spirits, and grotesque revenants. Some people keep dangerous hobbies; skydiving and driving at monster truck rallies and glacier surfing. Me? I cast my soul into the churning waters of potential damnation and wait for a bite.
It's been two years since Tark Halloway's nightmare ended. Free from the evil spirit that haunted him all his life, he now aids the ghostly Okiku and avenges the souls of innocent children by hunting down their murderers. But when Okiku becomes responsible for a death at his high school, Tark begins to wonder if they're no better than the killers they seek out.
When an old friend disappears in Aokigahara, Japan's infamous 'suicide forest', both must resolve their differences and return to that country of secrets to find her.
Because there is a strange village inside Aokigahara, a village people claim does not exist. A village where strange things lie waiting.
A village with old ghosts and an ancient evil – one that may be stronger than even Okiku…
review :
 Okay, I'm not usually one for horror books, but this YA novel and its companion have me hooked. I seriously hope that the author writes more. I don't think that you necessarily need to read the first book, The Girl from the Well, to enjoy The Suffering, but trust me, you'll want to read both. Book one gives backstory for Okiku and Tark, how they meet, and sets the precedent for their beautiful little relationship. Book two picks up about a year or two after the first book ends. There are new bad guys to exorcise, ancient evils to fight, and some drama between Okiku and Tark as well.
I'm not sure if I've mentioned it before, but the horror movies that often scare me the most are the ones with ghosts like Okiku. Just the idea of them is . . . well, there's a reason why people make so much money scaring the pants off of viewers with ghosts like that. But Okiku is on, like, a whole other level. I love her so much more than I've loved any other character in a while. Much more than Tark (okay, he's cool too, but OKIKU). I could read a whole series just about how her mind works. And I think it's so awesome how a character who'd be the antagonist in practically any other horror novel is actually the ghost kicking bad guy booty in The Suffering. Okiku experienced terrible things before she was killed; now it's her life's goal to avenge other victims and rid the world of murderers. Tark joins her in this, which is why he is also awesome.
Sorry. Enough fangirling. The Suffering has a creepy setting that I feel like a lot of people have heard about lately, either through social media, movies coming out about it, or just articles online. Aokigahara is a place I might enter if I had Okiku by my side, but . . . see above for what my worst fears in horror movies are and imagine an enter forest filled with them. In this book, it's speculated as to whether the forest draws in lost or lonely souls and that's what leads so many to commit suicide there. It's terribly devastating that a place like this exists in real life. In the book, a ghost hunting crew from a TV show thinks it would be a great idea to head into the forest to film Aokigahara and an ancient village inside that may or may not have ever existed. I can totally picture this happening in real life. And of course, the 'ghost hunters' are NOT prepared to meet any real ghosts. But that's their own fault.
I don't want to give any of the plot away but it's incredibly detailed and creepy and sad. Most of the ghosts that are around in these books never deserved to die and were nothing in life like they are as spirits. Tark needs to figure out how to pacify the spirits, save everyone lost in Aokigarhara, and make it out alive. You won't want to put this book down because there are so many twists and turns, you'll never see this ending coming.
I loved this book so much and want everyone to give it a chance! I feel like even people who don't often like horror might like to give this book a chance. It's a real twist on everything you might expect to get out of a book like this.
5/5 stars