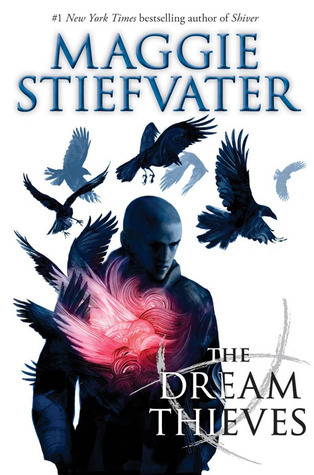 The Dream Thieves
The Raven Cycle #2
author : maggie stiefvater
pages : [hardcover] 439
memorable quote : In that moment, Blue was a little in love with all of them.
Their magic. Their quest. Their awfulness and strangeness.
Her raven boys.
favorite character : noah
summary :
If you could steal things from dreams, what would you take?
Ronan Lynch has secrets. Some he keeps form others. Some he keeps from himself.
One secret: Ronan can bring things out of his dreams.
And sometimes he's not the only one who wants those things.
Ronan is one of the raven boys—a group of friends, practically brothers, searching for a dead king named Glendower, who they think is hidden somewhere in the hills by their elite private school, Aglionby Academy. The path to Glendower has long lived as an undercurrent beneath town. But now, like Ronan's secrets, it is beginning to rise to the surface—changing everything in its wake.
Of The Raven Boys, Entertainment Weekly wrote, "Maggie Stiefvater's can't-put-it-down paranormal adventure will leave you clamoring for book two." Now the second book is here, with the same wild imagination, dark romance, and heart-stopping twists that only Maggie Stiefvater can conjure.
review :
I was super excited to read The Dream Thieves because I absolutely loved the first book! Unfortunately up until I started to read these books I was never a big fan of Maggie Stiefvater. This series, somehow, is the one for me. I love most of the characters, can never predict what's going to happen next, and definitely want more.
The last book left me wanting to know more about the raven boys and I'm glad that more was told about Ronan and even Adam's motivations. I still want more about Noah. I want to know what he was like in the past, because I'm sure that he was much different than how he is now! He's my favorite of the boys, mostly because he manages to be a good balance of extremely cute and mysterious. Gansey has been growing on me a lot. And Blue . . . She's the one that frustrates me. I wish that her role in the books was more than the prophecy of her killing her true love if she kisses him. I mean, all of these boys get cool backstories and motivations and, well, lives . . . And she's left with romance. Blue, they tease you about being a crazy feminist (I'm not even going to go there) but you aren't exactly helping yourself out.
I loved the plot twists in this book, though there were a few involving the mysterious Grey Man that I thought were a little odd, convenient, and forced. I'm still super excited to see what's going to happen in book three (and slightly confused because I thought this was a trilogy and apparently book four is coming out sometime next year). Again, the ones with Ronan were my favorite twists because I wanted to know more about him and there were some developments, and new villains, I never saw coming.
These are the Maggie Stiefvater books I'd recommend as of now. While I still am not a fan of her other work, the magical mayhem in this Raven Cycle is perfect for me.
4/5 stars