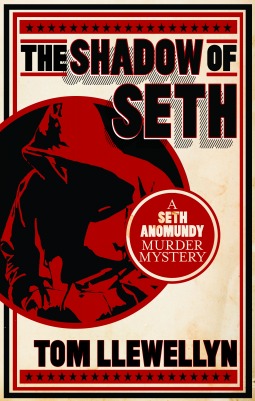 The Shadow of Seth 
author : tom llewellyn
pages : [paperback] 174
summary :
Sixteen-year-old Seth Anomundy is a product of his environment: in this case, Tacoma, Washington. What L.A. was to Chandler, Tacoma―a working-class port city now undergoing urban renewal―is to author Tom Llewellyn. Seth has grown up in Tacoma's tough neighborhoods, where he's perfectly at home in Choo-Choo's boxing gym and Miss Irene's soul food palace, the Shotgun Shack. With his mom working nights as a cleaner, Seth goes to high school, gets decent grades, and makes money where he can: filling in as cook at the Shotgun Shack, working as a sparring partner, and running errands for Nadel, the clock repairman. Life is hand-to-mouth, but okay―until he gets the news that his mother has been killed. The police don't care about the death of just another drug addict, so a bewildered Seth takes it upon himself to find the killer. On a clock delivery run, he meets a beautiful rich girl named Azura Lear, who encourages Seth and tries to help track down the killer. But instead of finding answers, Seth finds only trouble. He faces down a gang of baseball-bat-wielding high school jocks and deals with the contempt of Azura's suspicious father. And then there's King George―a teenage thug Seth has previously managed to avoid―who has for some reason let it be known that he wants Seth dead. Right now.
review :
I'm not much of a reader of mysteries but do love YA novels and think that there should definitely be more of a mixture with those genres. Unfortunately, The Shadow of Seth didn't quite hit a homerun for me.
Seth has led a rough life. Growing up on the poor side of town, he hasn't always had what he's needed much less wanted. But he's always had his mom there, looking after him, and Miss Irene as a second mother. Good people who want the best for him. That all changes when one night his mother is found dead and the police aren't interested in investigating what seems like an accident or even suicide. Seth knows that something is wrong and takes it upon himself to investigate.
The characters in this book were interesting, diverse, but somehow fell flat for me. I wanted to feel emotional alongside Seth when he realized that he's lost his mother, but I just couldn't connect with him. Azura Lear, love interest, was just . . . infuriating. Nothing she did ever made sense–like traveling to the bad side of town to let herself into the apartment of a guy who only stopped by her house on a job he had to do. Basically, stalking Seth to his home, and then not giving a second thought to the danger she was putting herself in by walking around alone with all of her privileged belongings. It made no sense and she contributed nothing to the plot aside from giving Seth someone to pine after.
The mystery was kind of flat, too. There weren't many twists and turns; it wasn't hard to figure out. It seems like there are going to be more of these mysteries, so I'm curious to see if maybe this case wasn't as clean-cut as suspected (though there wasn't a hint in the ending that that could be so) or if Seth is going to find more cases the police aren't interested in to solve himself. Whatever the case, I think I'm going to end up skipping those books.
2/5 stars